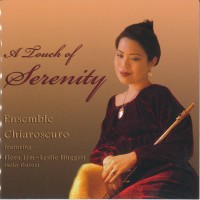 A Touch of Serenity
Ensemble Chiaroscuro
Independent HAP3781 (www.theflutestudio.ca)
In the 1970's the name "The Huggett Family" was synonymous with the revival of baroque music played on period instruments. Leslie Huggett, his wife, Margaret, and their four children were known across Canada for their tasteful interpretations of music from the medieval, renaissance and baroque periods. From Canada's National Arts Centre to London's Wigmore Hall and on the CBC and BBC the family performed in period costumes to the delight of audiences and critics on both sides of the Atlantic. In 1982, after several successful LP recordings, the group disbanded.
In the mid 1980's Leslie and Margaret established their Flute Studio in Markham, Ontario and were joined subsequently by rising young flautist Flora Lim. Now, performing under the name Ensemble Chiaroscuro, their stated aim is "to present music of many genres." The artistry and sensitivity is still there, but in a very different format. These are not duets. Rather, we are treated to the artistry of two solo flutes, with seamless transitions as the melodies are passed from one performer to the other with the tasteful, non intrusive accompaniment of Leslie's son Andrew. From traditional songs like Bonnie Doon to operatic arias including Delibes' Flower Song from Lakmé and Puccini's O Mio Babbino Caro we are treated to a broad spectrum of beautiful calm melodies. There are no bombastic displays of technique. These performers don't have to prove anything. This recording is not just "A Touch of Serenity," it's a feast of serenity.
To put the icing on the family cake, the final track features Andrew's daughter Emma singing Ray Noble's timeless The Very Thought of You, accompanied by the ensemble.