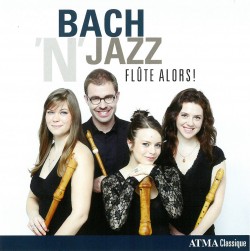 Bach 'n' Jazz
Flûte Alors!
ATMA ACD2 2745 (atmaclassique.com)
Review
Montreal-based recorder quartet Flûte Alors! mixes Baroque with a splash of jazz in this satisfying release. The four quartet members – Vincent Lauzer, Marie-Laurence Primeau, Alexa Raine-Wright and Caroline Tremblay – are each accomplished musicians. Together, these self-described new-generation recorder players perform with glorious tone, technique and tight ensemble etiquette.
It is not surprising that J.S. Bach's organ music translates well when arranged for recorder. Both instruments create sound by air/wind movement, and Bach's strong contrapuntal lines flow on the recorder. Of the six arrangements, most satisfying is group member/arranger Raine-Wright's take on Concerto in D Minor BWV 596. Her focus on Bach's flowing lines and contrasting articulations add colour and clearly emulate the organ sound. Of note is the attention-grabbing high-pitch opening note of her arrangement of the Toccata and Fugue in D Minor BMV 565.
Why jazz? Because Flûte Alors! had a café gig and decided to mix Bach with jazz. Their jazz tracks may not be as astounding as their Bach, but this musical experiment is an evolving work in progress. Fly Me to the Moon opens with contrapuntal Baroque flavours leading to a jazzy pleasant swing-feel rendition of this popular standard. Dick Kooman's The Jogger is a clever mix of classical and jazz with pavement-pounding detached rhythmic patterns driving the piece home.
Congratulations to Flûte Alors! for taking programming risks. Their Bach is more memorable, yet their detours to jazz land are pleasant listening, and crucial to the group's artistic development.