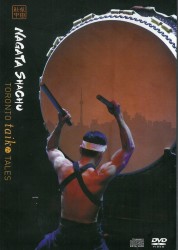 Toronto Taiko Tales
Nagata Shachu
Independent KNE013 (nagatashachu.com)
On several occasions I've written about the Toronto group Nagata Shachu in my WholeNote World Music column. "Nagata Shachu is one of our city's musical treasures," I wrote in one, "…its performances invariably filled with a high level of ensemble musicianship coupled with mental and corporeal discipline."
Canadian-born percussionist Kiyoshi Nagata, the group's founding artistic director, has composed and performed taiko-based music for theatre, film, dance and radio. He's also collaborated with musicians practising many genres of music, including most recently the Toronto Tabla Ensemble.
Nagata Shachu's Blu-ray release Toronto Taiko Tales shows the group in top form. The concert video footage shot in 2016 at Aki Studio Theatre, in Toronto's core Regent Park neighbourhood, not only captures the group's usual lofty musicking but also its inventive choreography. In that category I include playful deployment of drumsticks, and intense physicality in performance, all attractively captured in medium shots, close-ups and in clear audio.
The well-crafted compositions are by Kiyoshi Nagata and associate artistic director Aki Takahashi, who is also the founder of the Japanese folk ensemble ten ten. Takahashi offers a welcome palate cleanser in contrast to Nagata Shachu's drum-centric repertoire, with a moving rendition of her song Zare Shamisen, which she sings accompanying herself on the shamisen.
I also enjoyed the peaceful footage of Toronto's natural landscape as it passes though the seasons, artfully interspersed throughout the video. It's a welcome reminder of the rhythms of nature pulsating in the multicultural city we all call home.