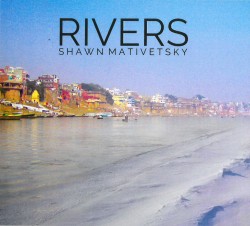 Rivers
Shawn Mativetsky
Samskara SAM-3 (shawnmativetsky.com)
In his Indiegogo fundraising campaign video, Montreal tabla player Shawn Mativetsky quips that his album Rivers would be the "first album of solo tabla music to be recorded by a Quebecer!"
Bracketted by footage of what appears to be the St. Lawrence River, Mativetsky continued: "This album would be the way to pay tribute to my guru Pandit Sharda Sahai-ji [of the Benares/Varanasi tabla lineage] who truly desired for his family's tabla tradition to spread around the world, to be enjoyed by all."
For well over a decade Mativetsky has been "living fully immersed in the world of tabla and Indian classical music," but it was only last year he finally felt the time had come to release his first traditional solo tabla album.
Rivers is an apt poetic-geographic metaphor for the project. It refers to both Mativetsky's home St. Lawrence as well as to the mighty Ganges in his adopted Varanasi, India. The cover photographically mashes up a bare snowbound shore with the other shore featuring the ghats of Varanasi, but the two long tracks are truly a one-way "rhythmic journey to Varanasi."
Mativetsky's tabla solos are idiomatically accompanied on the bowed dilruba by the veteran Toronto bassist and long-time Hindustani music performer George Koller. They are set in the 16-beat teental, the principal tala (rhythmic cycle) of North Indian classical music.
Koller accompanies the tabla solos with a series of lehras, which are repeated short melodies, providing an aural outline of the tala. Enriching the listening experience, they have wisely chosen lehras in five different ragas, each evoking a distinctive modal and emotional flavour for each tabla section instead of choosing standard practice: a single melody throughout.
The Madhya Laya (medium tempo) track presents fixed tabla compositions, while the Vilambit Laya (slow tempo) track explores the theme-and-variation format with emphasis on improvisation. Mativetsky's tabla solos in Rivers eloquently reflect his evident dedication to the dynamic, received tradition of Benares style of tabla playing, his own individual spontaneous creativity, as well as his passion for this rich form of music-making.