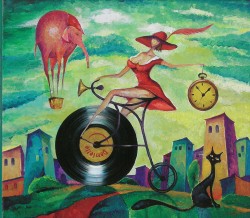 What About Wool Wishbags
Denielle Bassels
Independent DEN001 (reverbnation.com/deniellebasselsquintet)
Denielle Bassels is a fresh new voice on the Toronto scene. This is despite the fact that she borrows from some well-established styles like trad jazz and gypsy jazz. Yet her songwriting and singing approach make it all sound rather modern and at times surreal. Bassels' appealing voice is reminiscent of a few indie pop singers, like Corrine Bailey Rae and Feist, who have had an influence on the latest generation of vocalists. And her solid range and technique serve the tunes well.
The arrangements and instrumentation also lend a fun quirkiness: ukulele, percussion, clarinet, horns and violin bounce along through most of the tunes. Bassels' writing and production partner Mike Mathieson plays a number of the instruments and joins core rhythm players Andy Mac, guitar, Scott Hunter, bass, and Joe Ryan, drums.
The songwriting is consistently upbeat throughout, or at least has a veneer of positivity, despite a few thought-provoking lyrics. Spiders Kiss is a 3/4 time, Euro-tinged lament with a je ne regrette rien attitude and Silly Lion seems to be about betrayal, but it's hard to fathom. The title track has a wacky, stayed-too-long-at-the-carnival feel to it. Perhaps the best approach to What About Wool Wishbags is to not take the words too literally and simply enjoy the album as a light-hearted lark.