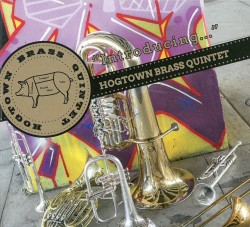 Introducing…
Hogtown Brass Quintet
Independent (hogtownbrass.com)
This short disc (23 minutes) by the Hogtown Brass Quintet reinforces my enthusiasm from their concert last year at Yorkminster Park Baptist Church's Lunchtime Chamber Music series. As the name suggests, these Hogtowners combine excellence with wit, in a tasty six-piece program featuring compositions and arrangements by trombonist RJ Satchithananthan. His inventive, Spanish-inflected Solea and bluesish Stray Goat avoid clichés of their styles, taking off in unexpected directions as the latter's title suggests. As a composition student I was advised not to use "too much tuba" in a brass quintet. Tubist Andrew Nowry belies that nostrum with well-controlled dynamics and endurance in Solea and an exuberant solo in Stray Goat.
The setting of Bewitched, Bothered and Bewildered features Satchithananthan's own lyrical trombone. With light syncopated staccatos and interlocking accompaniment figures from trumpeters Tristan Tye and Matthew Ross, Nowry's agile tuba bass line and Jason Austin's sustained horn background gluing it all together, this is fun and first-rate work. An arrangement of Mascagni's Intermezzo from Cavalleria Rusticana by Satchithananthan works surprisingly well because of the players' sensitive shaping of melodies distributed among instruments.
Of two pieces arranged by others, J.S. Bach's difficult Contrapunctus IX from The Art of Fugue sounds well on brass, but there are a few places where intonation or evenness could be better. After the disc's close with an affecting A Nightingale Sang in Berkeley Square, I was left awaiting more from the Hogtown Brass Quintet!