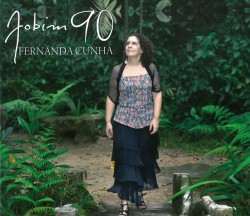 Jobim 90
Fernanda Cunha
Independent AA1000
(fernandacunha.com)
There is no question that Antonio Carlos "Tom" Jobim is the most significant, seminal Brazilian composer/musician of this – or any other – time. Without the late Jobim (who would be 90) and his starring role on the tidal wave of bossa nova and Brazilian music in general, there would be no Ivan Lins, Hermeto Pascoal, Gilberto Gil or even Sérgio Mendes. His music remains as stunning, mysterious and indestructible as the pyramids – always gracefully lending itself to a phalanx of interpretations – from the symphonic to the pristine, authentic and vocally driven ensemble that the listener will find here in this exquisite collection.
Producer and powerful alto vocalist Fernanda Cunha has selected ten of Jobim's familiar (and also infrequently performed) tunes, and brought together a delicious ensemble of collaborators, including Zé Carlos and Reg Schwager on guitar, Jorjão Carvalho on electric bass, Helbe Machado and Edson Ghilardi on drums and Camilla Dias on piano – with all arrangements by members of this tight, skilled unit.
First up is the lilting Aguas de Março (The Waters of March) with its deceptively poetic narrative (which is actually a string of clues to a very infamous 1950s murder in Rio). The song is refreshingly rendered here with musical and vocal precision, and no overwrought Romanticism. Other jewels in this musical crown include the intensely sensual Samba Da Avião; a lovely version of Two Kites sung in English (and featuring the always tasty Schwager on guitar) and the lighter-than-air Chovendo Na Roseira. This fine recording is the result of Cunha's glorious vision of Jobim's achievement of the perfect symbiosis of melody, lyric, emotional content, musicianship and soaring spirit.