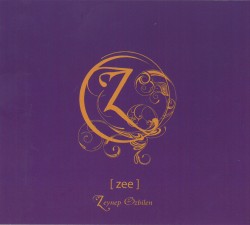 Z [zee]
Zeynep Ozbilen
Independent (zeynepozbilen.com)
Where would the 1969 Blood Sweat and Tears' jazz fusion hit Spinning Wheel by Canadian singer David Clayton-Thomas receive a caliente Latin-inflected remake by Toronto bandleader and arranger Roberto Linares Brown (leaning heavily on the original influential Grammy Award-winning arrangement by Fred Lipsius), but infused with Turkish lyrics by the singer Zeynep Ozbilen? In Toronto, that's where. Titled Donme Dolap, the song is among the delights of Z [zee].
While the individual tracks were recorded in cities emblematic of the music genres represented – Istanbul, Miami, NYC and Toronto – the album was produced, mixed and mastered in Toronto. I mention the geography and its implied cultural shifts because it accurately reflects the hybrid musical aesthetics and artistic ambitions of Ozbilen, aided by her producer and band leader Brown.
This album with the single consonant title (given the American pronunciation), is the newest project of Turkish-born, now Toronto-based singer and songsmith Zeynep Ozbilen. For over a decade she was the lead vocalist for the Latin All Stars, the first and best-known Latin group in Turkey. Her warm throaty alto is equally at home in jazz and musical standards as in Anatolian, Balkan and Ladino songs. The lyrics on Z [zee] underscore this multiculturalism, smoothly negotiating between Turkish, English and Spanish.
The skillful fingerprints of Roberto Linares Brown are all over the album too, infusing his knowledge of multiple Latin styles into skillful horn-rich arrangements and delivering understated keyboard performances. While not every song here will make it into my personal heavy rotation, the album as a whole encourages my hybrid musical heart to sing – and to kick off those winter boots and dance.