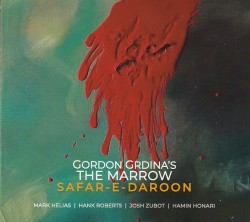 Safar-E-Daroon
Gordon Grdina's The Marrow
Songlines SGL2410-2 (songlines.com/release/safar-e-daroon)
Gordon Grdina draws on two distinct musical cultures, contemporary jazz and traditional Middle Eastern music; chooses musical partners from two different cities, Vancouver and New York; and realizes his musical visions on two distinct instruments, the electric guitar and the oud, a short-necked, fretless Middle Eastern lute. Among Grdina's various ensembles, The Marrow is the one most strongly marked by Arabic and Persian sources; the musicians are Vancouverites (violinist Josh Zubot and percussionist Hamin Honari) and New Yorkers (bassist Mark Helias and cellist Hank Roberts); further, Grdina plays only oud in this band, making it a group of fretless strings and percussion with strong ties to the tonal inflections and compound rhythms of music that have stretched from the Eastern Mediterranean to India and Spain.
Safar-e-Daroon (inner journey) isn't pure Eastern music (the journey East likely led for some by John Coltrane), and Western harmonic nuances supplement the focused modal intensity, but there's a consistent emotional and spiritual dimension. Mini-con, a brooding Grdina theme launched by Helias, has a soaring improvisation by Zubot, while Roberts, one of jazz cello's finest representatives, articulates the keening wail at the heart of Shamshir. Illumination is marked by the dense and subtle counterpoint of picked, bowed and plucked strings.
The concluding Gabriel James, named for Grdina's son and inspired by a moment when the two played together, has the composer strumming a harmonic pattern under the sustained strings' melodies. It suggests the wide-open spaces of the North American West.