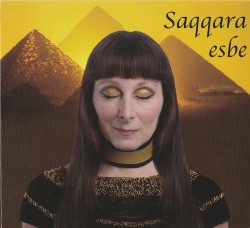 Saqqara
Esbe
New Cat Music (esbemusic.uk)
Esbe does not score the instruments and sounds she needs before recording her music. As she herself puts it, she allows serendipity to take her on its own particular journey until there is one unified picture. And this CD presents a highly varied picture as Esbe travels from Egypt (hence Saqqara, site of Egypt's oldest Step pyramid) through India, Sri Lanka and North Africa.
In fact, modern boundaries count for nothing as Esbe casts her sensuous veil of voice and instrument (and even sound effect) over her listeners, who feel themselves entranced within the lingering and languorous sounds of traditional desertscapes. And yet the sounds of the desert are not the only ones on Esbe's CD. She employs the Indian tabla, tambourine and various synthetic sounds to create her own Qawaali Dance, a tribute to a spirited and demanding dance form. Her fondness for the rich music of India leads to Eyes of blue, a lovesong of intense beauty.
Paint the moon is perhaps the most distinctive track. It starts with the most lively beat on the CD, before introducing heartfelt lyrics described by Esbe as perhaps a plea by the moon for an end to the natural depletion of the world by humanity.
Esbe's final composition inspired by the desert is Bedouin Prince, reflecting the longstanding presence of the Bedouin in North Africa. Its mystic percussion part sets the backdrop for some highly romantic thoughts. In fact, looking at the CD as a whole, those of the romantic persuasion can invite a significant other round, dim the lights and listen to Saqqara...