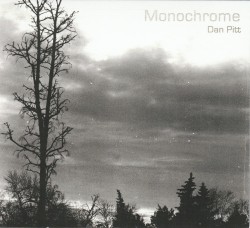 Monochrome
Dan Pitt
Dan Pitt Music (dan-pitt.com)
Call this a cynical outlook, but I generally see likening one artist to another, particularly in music, a cheap trick employed by unimaginative writers. A saxophonist with avant-garde tendencies quickly "calls to mind Ornette Coleman." Likewise, any legato-leaning guitarist post-1990 becomes "Metheny-esque" when described in banal jazz prose. During my second listen to Dan Pitt's Monochrome, I ate my above words as I subconsciously likened many of his tones and textures to modern guitar greats like Bill Frisell and Ben Monder. On this 2020 release of contemporary solo guitar music, I would argue these influences merely show that Pitt has done his homework. The music presented is far from ever sounding derivative, but its uniqueness as an album also largely stems from diversity throughout its ten tracks. Pitt's use of electric and acoustic guitars, as well as effects and samples, creates tasteful contrasts to the pieces presented, without taking away from the album's cohesiveness as a whole.
As the COVID-19 pandemic places many aspects of our lives in limbo, I am not envious of those releasing albums this year, forcedly adapting to the new normal of limited capacity and online album releases. To offer a silver lining for Monochrome, I hope that this album can benefit from the quarantined or working-from-home audience, who now have time to give it the uninterrupted 38 minutes of listening it deserves.