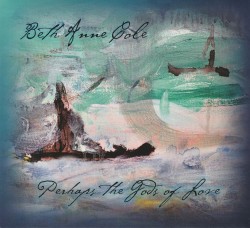 Perhaps the Gods of Love
Beth Anne Cole
Independent BAC103 (bethannecole.com)
Aristotle, Horace and Longinus, all writing with passion on the art of poetry – and speaking in a forthright manner of art in the mimesis (adopting Plato's word for the imitation) of life – have stressed, in no uncertain terms, that the rhythm of music and dance elevates the dramaturgy of art. It would seem that Beth Anne Cole declares her unstinting allegiance to those classic dictates and she appears do so with elemental facility. This is why we easily fall prey to her beguiling music.
Throughout her breathtaking recording, Perhaps the Gods of Love, Cole infuses the convention of song with an emotional intensity that can only be described as the poetry of feeling. This too seems instinctual, for she weaves recitation and singing together with one melodic invention inexorably following the other seamlessly; the instrumentation ornamenting the lyric and vice versa.
Cole's rendering of this music is striking; with perfect diction, intonation and expression – all this whilst singing Sailor (in English), La Fille de l'île (in French) and Amol iz Geven a Mayse (in Yiddish). In original work too, such as My Story of Ruth, Cole displays an inventiveness that comes from an uncommon understanding of character and emotion born of accuracy and sensitivity, all of which is framed in a judicious mix of traditional and modern expression. Throughout this recording, Cole's instrument-playing cohort is fully attuned to her vision and artistry.