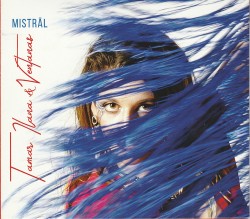 Mistral
Tamar Ilana & Ventanas
Independent (tamarilana.com)
Tamar Ilana had been dancing and singing in the flamenco/Middle Eastern/Balkan music realm since she was a girl, so although still relatively young, she's now somewhat of a global-music veteran. She comes by it honestly, as her mother, Dr. Judith Cohen, is a respected ethnomusicologist who Ilana credits with introducing her to many of the styles of music on this lovely album.
Mistral is the third release by the Toronto-based group, and Ilana and her Ventanas bandmates cover off a range of instruments and styles. All contribute vocals in an impressive seven different languages. Percussionist Derek Gray does multiple duty on Tibetan singing bowls, cymbals, darbuka, djembe, cajon and good ol' drum kit. Demetri Petsalakis' string mastery shines on oud, lyra and saz. Benjamin Barile's assertive guitar playing is an excellent foil for Ilana's strong, emotive singing. Barille also wrote two rousing flamenco tunes, and Jessica Hana Deutsch contributed several songs – including a lovely instrumental honouring Martin Luther King Jr. – along with versatile violin and viola playing throughout. Bass player Justin Gray co-produced the album and has kept it relatively raw, letting the musicians' talent and passion come through in an authentic way. The lyrics (helpfully translated in the liner notes) reveal themes of longing, loss and love – themes that unite us all, no matter where we're from.