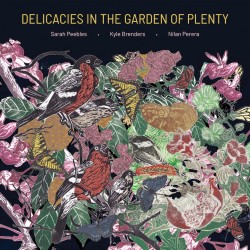 Delicacies in the Garden of Plenty
Sarah Peebles; Kyle Brenders; Nilan Perera
Independent (secondharvestca.bandcamp.com)
Concerned about Canadians impacted by COVID-19, Toronto-based experimental musicians and composers Sarah Peebles (shō, electroacoustics), Kyle Brenders (saxophones), Nilan Perera (altered electric guitar) joined forces to help. Earlier this year they released their album Delicacies in the Garden of Plenty, proceeds from which benefit Second Harvest, Canada's largest food rescue charity.
The eponymous tracks one and four are free improvisations by the trio performed at Ratio, the intimate former downtown Toronto performance space. They feature Perera's delicate experimental electric guitarism, Brenders' saxophonic exploration of "the interaction of intentionality and surprise," and Peebles' chordal performances on shō, the Japanese mouth organ. The slowly evolving music of Delicacies... is a testament to the trio's improvisational skill, deep listening and generosity of shared spirit.
The inner two tracks are hybrid soundscape-electroacoustic works by Peebles, featuring the sound of birds, amphibians, insects and water from Aotearoa/New Zealand, masterfully mixed with occasional shō and electroacoustic interpolations. The nearly 20-minute In the Canopy – Meditations from Paparoa and Kāpiti Island (2005/2020) is the album's standout work. Deeply informed by Peebles' long involvement with sound ecology and biodiversity, she uses her beautiful field recordings of nature sounds and studio-made electroacoustics, layering and extending them into a compelling musical statement.
In addition to learning from the voices of the land, Peebles points out that her approach in the work was informed by indigenous Māori concepts reflecting spiritual dimensions. In this music we get a rare glimpse of the sort of eloquent, non-hegemonic sonic dialogue possible between nature and humans. It's an impressive feat even when constructed in the recording studio for our listening pleasure.