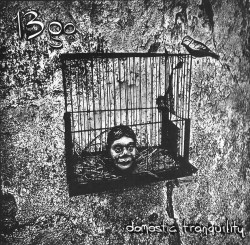 Domestic Tranquility
13go
Independent (13gomusic.com)
The album's title comes from the Preamble to the US Constitution which is an ambitious document tying together several political and philosophical imperatives. This album is also ambitious and brings together musicians from Canada (Aubrey Dayle, drummer and composer), Kim Ratcliffe (guitarist, miscellaneous strings and composer), Uganda (Ian de Souza, bass), and the USA (Vernon Reid, guitar on selected tracks).
Although the group's CDBaby page describes the album as "guitar fusion music," the first few songs demonstrate more varied sounds and textures. Boogie Down 1 is exactly what the title advertises, a solid groove with some nicely phased guitar lines and simple melodies that create and release tension. How Much Longer is faster, more intense and with some wicked guitar from both Ratcliffe and Reid and more complex drumming. Pointe-Claire is a softer and more lyrical homage to the town where Dayle grew up and Eleanor Rigby is a solid cover that combines tasteful playing with a very laid-back sense of time.
The other tracks include some spoken word segments ending with Boogie Down 2, which is very ska-influenced, and There's Three Little Girls at the Window, a whimsical Ratcliffe composition with mandolin as the primary instrument, which is calming and definitely tranquil.
The album has a nice pacing, contrasting edgy fusion pieces with softer, more introspective works, which encourages a sustained listening experience.