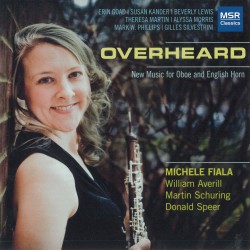 Overheard – Music for Oboe and English Horn
Michele Fiala; William Averill;
Martin Schuring; Donald Speer
MSR Classics MS 1403
www.msrcd.com
Overheard is a refreshing disc of contemporary music for oboe and English horn, by composers born between 1952 and 1986. A professor of oboe at Ohio University who has performed internationally, Michele Fiala's playing on this, her second recording, is certainly "world class," in both display of solid technical facility and musical expression, with equally able piano accompaniment provided by William Averill and Donald Speer; but congratulations are also in order on the choice of repertoire which covers a gamut of styles from jazz to the incorporation of electronics.
One of three commissioned works on this disc is by Toronto composer Beverly Lewis — her Fundy Temperaments for English horn and piano is a dramatic work evoking the landscape of the Bay of Fundy, including a foghorn depicted through the use of multiphonics. Another commission, Peaches at Midnight, is a delightful work by Theresa Martin evoking the playfulness of childhood. Sheer technical brilliance is displayed in Gilles Silvestrini's Three Duos for Two Oboes, in which Fiala is joined by Martin Schuring; the movements are named for works by French impressionist painters.
The concluding work on the disc is a personal favourite — Mark Phillips' Elegy and Honk for English horn and electroacoustic music uses only processed English horn sounds for the background soundtrack of the slow and moody first segment, while Honk employs manipulated sounds of geese, ducks and a bicycle horn as a rhythmic backdrop to the live instrument. I found myself chuckling along with this last track on what is a thoroughly enjoyable and important contribution to the recorded repertoire for oboe and English horn.