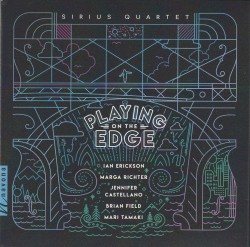 Playing on the Edge
Sirius Quartet
Navona Records nv6249 (navonarecords.com)
The brightest star in the visible night sky has been given the name Sirius – a word of Greek etymology meaning "glowing" or "scorching." The Sirius Quartet certainly lives up to such a depiction in their masterful performances on this release, comprised of five genre-bending composers, each providing a confident array of compelling sonic landscapes. Jennifer Castellano, Ian Erickson, Brian Field, Marga Richter and Mari Tamaki all bring a level of creative excellence that elevates this disc to a compulsory level along with the brilliant performances by the musicians.
The need to push boundaries and push limits is an ever-present theme in contemporary genres; however, as one listens throughout, such pushing is seemingly met with no force as it feels natural and pure as the music is refreshingly contemporary while avoiding any tired clichés. We do get the standard contemporary tricks as are heard in many pieces of recent times, but unexpected innovation takes over if any doubt arises concerning overused performance techniques. For those who ask if there are still new sounds and new contexts to be accomplished in contemporary classical music – this release is a must-listen.