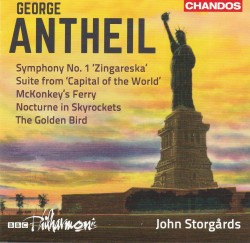 George Antheil – Symphony No.1; Suite from Capital of the World etc.
BBC Philharmonic; John Storgårds
Chandos CHAN 20080 (chandos.net)
This is the third in a series of invaluable volumes devoted to the orchestral works of the notorious "Bad Boy of Music," the pistol-packing composer, pianist, inventor, author and occasional glandular advice columnist, George Antheil (1900-1959). A protégé of Ernest Bloch, he left America in 1920 in hot pursuit of his then girlfriend whose mother had banished to Paris, in an attempt to discourage their relationship. It proved a lucky break for him, for upon his arrival his piano recitals were soon lionized by the intellectual elite of the capital. He cemented his European reputation in 1926 with the literally riotous premiere of what will always remain his best known work, the sensational Ballet Mécanique for multiple pianos and percussion. Alas, the clouds of war gradually intervened and he returned to a less-than-impressed America, ending up in Hollywood scoring obscure movies.
Of the shorter pieces on this disc the opening McKonkey's Ferry Overture of 1948 is a boisterous depiction of George Washington's celebrated crossing of the Delaware River at a site not far from Antheil's birthplace of Trenton, New Jersey. The Golden Bird is a delicately scored fragment of chinoiserie, derived from a 1922 piano piece. The waltzing Nocturne in Skyrockets dates from 1951, while the Capital of the World suite is a vividly coloured, Latin-tinged anthology from Antheil's 1952 ballet score.
The most ambitious work on offer is Antheil's First Symphony from 1922, an impressive declaration of patriotic American nostalgia which received only a partial premiere by the Berlin Philharmonic but was not heard again until the beginning of this century. It's quite a winning work, polystylistic in the extreme with a little something for everyone to enjoy. Antheil was an expert and innovative orchestrator whose timbral flair is vividly brought to life by the enthusiastic ministrations of John Storgårds and his expert BBC ensemble.