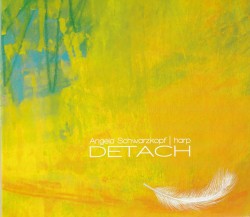 Detach
Angela Schwarzkopf
Redshift Records TK472
(redshiftrecords.org)
Often, new music, as much as that term is understood within the worlds of jazz or art music, is put forward to provoke, to be forward thinking, or to be purposefully progressive. Among the many adjectives most frequently used to describe this interesting genre, beautiful and serene are, arguably, not often heard. That is, however, not the case with Detach, the debut recording from Toronto-based harpist Angela Schwarzkopf on Redshift Records. Her sublime instrumental touch and skillful manipulation of dynamics successfully draw in and activate listenership. With the extremely capable accompaniment featuring vibraphonists Michelle Colton and Étienne Levesque, Schwarzkopf highlights and bring to life a number of compositions by new and notable contemporary Canadian composers Monica Pearce, Cecilia Livingston, Patrick Arteaga, Mark Nerenberg, Elisha Denburg and Kevin Lau.
There is an intriguing programmatic arc to this recording. After an initial bold musical statement, Detach moves slowly and gently through the rest of Pearce's attach/detach before traversing a tremendous terrain of harmonic and rhythmic complexity. Compositional nuance and sophistication abound, as well as wide-ranging dynamics, before ending, after a 15-minute tour de force reading of Lau's Castles in the Sand, with an arpeggiated cascading melodic line on solo harp.
This recording is indeed progressive, forward-thinking and modern, but it is simultaneously engagingly listenable, melodic and beautiful. Congratulations to the Ontario Arts Council for having the good sense to support these important voices in contemporary Canadian music, and to Schwarzkopf and the vibraphonists for creating such a fine recording. Picking up on the hopeful success of this debut, I trust there will be more to come.