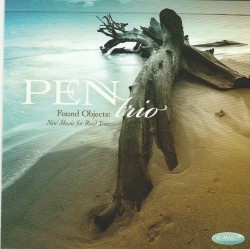 Found Objects – New Music for Reed Trio
PEN Trio
Summit Records DCD 754 (summitrecords.com)
I'm seeking synonyms for "wholesome." I do so because I so enjoy what seems to me the very salubrious effect of listening to the timbre of three distinct reed voices. I am ready to accept that this is not everybody's cup of tonic, but it seems to cure what ails me to listen to the very excellent PEN Trio. The tuning between the instruments is uniformly excellent, whether in consonant or dissonant voicings. Whether they're swatting staccato flies or swinging languorous legato lines, they match character to one another. They play their respective windpipes with vigour, elan and grace. All three are fine practitioners, although I am personally less partial to Nora Lewis' oboe sound. Phillip Paglialonga, clarinet, and Eric Van der Veer Varner, bassoon, form a more sympathetic blend. It might be a question of the close mic being less kind to the oboe, although it allows one to hear the players inhale, very inspiring and invigorating.
The disc is named for one of the pieces presented: Found Objects, by Jenni Brandon, turns out to be pleasant tuneful tonal evocations of flotsam on Long Beach CA. No plastic included in the collection – artistic licence I guess. Two colours of sea glass are the only semi-synthetic items, which I think is in keeping with my overall impression of the disc being salutary. The opening work 5-4-3 (except after C) by relative old-timer William Bradbury (he's now 64 – the other composers are all 40-something), is similarly pleasant, if a bit more lively.
As much as the happily tonal first two works are like gentle massages for the ears, the final two are good stiff workouts designed to keep one's ears in proper shape for hearing new sounds. Oblique Strategies by Aleksander Sternfeld-Dunn and In Threes by M. Shawn Hundley round out this terrific collection.