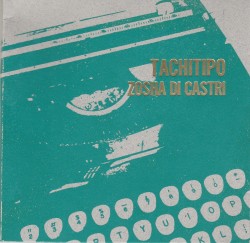 Zosha Di Castri – Tachitipo
Various Artists
New Focus Recordings FCR 227 (newfocusrecordings.com)
Right from the beginning of her career, Canadian composer Zosha Di Castri has been stirring up great enthusiasm – and some controversy. This recording, the first devoted solely to her compositions, offers up the altogether worthwhile experience of entering Di Castri's adventurous sound world.
There is a lot going on in these works, with their constant shifts in mood and texture. But the inventive details add up to much more than a series of engaging episodes. Each work is tautly structured, creating an invigorating momentum. Above all, these works are inescapably moving, whether on a personal level, or when confronting the global issues that concern Di Castri.
The best moments are the most unexpected. Take the burst of reflectiveness at the end of the title work Tachipito. Or the way the explosive glissandi in Quartet No.1 are interrupted by magical other-worldly harmonics. In Dux, virtuosic passages of unprompted rhapsodizing create a reassuring dream state. In Cortège, from 2010 the earliest composition here, the repetition of the opening motif throughout creates a poignant sense of longing.
Each work is played by a different set of musicians. The array of performers gathered here is truly exceptional, from solo pianist Julia Den Boer playing Dux to the 13 musicians of the Talea Ensemble under Lorraine Vaillancourt performing Cortège.
Di Castri's fresh, imaginative voice carries forward the vital lineage of the avant-garde at its most enjoyable. With these works she manages to both challenge and delight.