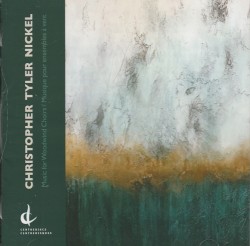 Christopher Tyler Nickel – Music for Woodwind Choirs
Various Artists
Centrediscs CMCCD 27019
(cmccanada.org)
The two large works on this CD, both composed in 2017, are Suite for Two Oboes and Two English Horns and Symphony for Flute Choir. Each is performed by a group of superb Canadian musicians, conducted by Clyde Mitchell, music director of the Lions Gate Sinfonia and former associate principal horn in the Montreal Symphony Orchestra. The performances are, to my ears, flawless and vital.
Nickel's music is full of life: imagination, invention, variation – a deep understanding of the craft of composition. The artistry, for example, of the opening movement of the Suite, is evident from the first notes: the same note played three times on the English horns, to which the oboes reply with a five-note motif on three pitches. This is just the beginning of a journey, which leads us through an episode of melodic development and several contrapuntal episodes – in the complexities of which we never feel lost – and then back to a satisfying recapitulation. This is composition at its best – arresting and masterful.
The Symphony for Flute Choir brings comparable invention: in the first movement Nickel develops what sounds like an atonal theme – an engaging one – into 12 minutes of music, always interesting and all derived from this one short theme. In the second movement I was struck by Nickel's extraordinary melodic flair, a satisfying blend of repetition and variation.
I hope there will be live performances of these wonderful works in the not-too-distant future!