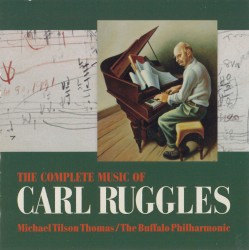 Ruggles – The Complete Music of Carl Ruggles
Buffalo Philharmonic;
Michael Tilson Thomas
Other Minds OM 1020/21-2
Long out of print, this double CD re-issue of the 1980 Columbia vinyl LPs of the complete music of the American iconoclast Carl Ruggles (1876–1971) makes a welcome return to the fold thanks to the efforts of the San Francisco Symphony's Other Minds project. Michael Tilson Thomas, long-time conductor of that admirable ensemble, was also music director of the Buffalo Philharmonic from 1971–79, continuing a golden age for contemporary music in Buffalo dating back to the tenure of his predecessor, the composer-conductor Lukas Foss (1963–71).
Ruggles struggled mightily with his compositions, publishing only a dozen complete works from 1918 to 1944, amounting to a mere 90 minutes of music. Strident, granitic and densely chromatic, Ruggles' powerful music attracted the attention of the avant-garde of the time who greatly admired his uncompromising vision. Edgard Varèse (none too prolific himself) was a major enthusiast, and used his influence to arrange high-profile performances and solicit new commissions for him. Alas, the cantankerous Ruggles was more fascinated with the process of composition than its termination and left the majority of his projects unfinished. His colleague Henry Cowell recalled overhearing Ruggles pounding out the same crystalline sonority relentlessly for hours on end, and when he gently questioned him about it Ruggles bellowed, "I'm giving it the test of time!"
Ruggles' distinctive music has indeed passed that test with flying colours, and 32 years after their initial release these performances remain compelling despite the comparatively dated sonics. The voicing of the glowing, closely-packed harmonies in the isolated moments of quiet repose are expertly balanced and the orchestra projects the stentorian passages with chilling conviction. Excellent documentation is included. This is a landmark collection that should not be missed.