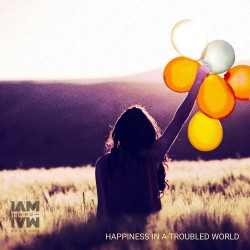 Happiness in a Troubled World
Frank Horvat
Independent (frankhorvat.com)
Written as an offering to a world in need of healing, Happiness in the Troubled World is a potent mixture of ambient sounds and well-thought-out musical ideas. This music has the potential to shift your energy, calm your mind and expand your awareness.
Frank Horvat's latest album is inspired by the Dalai Lama's book The Art of Happiness in a Troubled World. Six compositions bear the titles of the final six chapters of the book and each is inspired by a quote from that book. Choosing an ambient electronic genre allowed Horvat to create a perfect musical vessel for expressing the noble ideas of empathy and compassion, hope and optimism. The building and ever-changing layers of sound generate the feeling of being in the womb of the world that is mending and healing. The textures throughout are smooth, unperturbed. In each of the compositions Horvat creates the safe space for a listener to expand their own aspirations for the world we share.
The album opens with peacefully neutral Coping with a Troubled World. It then continues with pulsing sounds and bright piano in Hope, Optimism and Resilience. The lightness and joyfulness increase with each composition until the final number, Empathy, Compassion and Finding Happiness in the Troubled World, brings an incredible sense of peace.
If you are looking for a meditative, calm sonic space that induces happiness and optimism, this album is perfect for you.