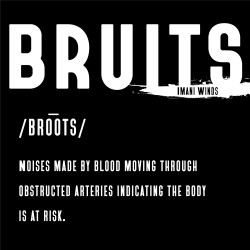 Bruits
Imani Winds
Bright Shiny Things (brightshiny.ninja/imani)
The American quintet Imani Winds present Bruits, the title work on their new release. Vijay Iyer's title references medical terminology for sounds caused by arterial blockages. The theme of the disc is social/racial injustice. The ensemble playing is superb; individually and collectively the group is strong; the material they champion is compelling. Four of the five members of the group are people of colour, whose own writing in the accompanying notes underlines how they are affected by their country's ingrained injustices.
Polemics that entertain are rare, but Bruits bridges the divide: the first movement, Gulf, is exhilarating writing brilliantly covered by the quintet and pianist Cory Smythe. In the second movement, Force, ensemble members recite the U.S. "Stand Your Ground" law over a percussive ostinato, performed by the members of the quintet. Iyer wrote the work during the period of the murder trial of George Zimmerman, killer of Trayvon Martin. Thus the meaning of the piece comes into focus: Bruits as a blockage, not of the circulatory system but of justice in the U.S. It's shocking, and riveting. The five movements carry tremendous emotional power.
The Light Is The Same (2016) by Reena Esmail, is a single-movement work reflecting unease felt in the wake of the U.S. presidential election that year. The material, two distinct ragas, attempts to depict reconciliation between them. In Sometimes, Frederic Rzewski makes various affecting uses of a deconstructed melody: Sometimes I Feel Like a Motherless Child.