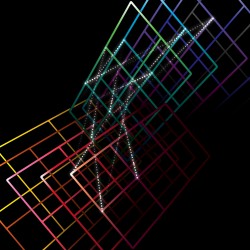 True Stories & Rational Numbers
Chris P. Thompson
Independent (chrispthompson.com)
New York-based percussionist Chris P. Thompson is a longtime member of Alarm Will Sound, the American Contemporary Music Ensemble and other groups. His album True Stories & Rational Numbers a nine-movement 43-minute work, however showcases him as composer and pianist.
True Stories & Rational Numbers reflects Thompson's large-scale exploration of piano music in just intonation, the tuning system based on tuning notes to simple mathematical ratios of the natural harmonic series. He also employs whole-number rhythmic and harmonic relationships in his score. Taken together, he likens listening to this music to having his "eyes re-opened to music and seeing it in colour for the first time." was composed and programmed in modern piano roll notation, an extension of how 20th-century commercial piano rolls were made. Thompson's main inspiration here was American composer Conlon Nancarrow's boundary-pushing experimental player-piano compositions. Other influences were German scientist and philosopher Hermann von Helmholtz, the author of the landmark book, On the Sensations of Tone, and the music of Aphex Twin and modern drumline. The chamber music of Ben Johnston, which liberally employs unorthodox tunings, is cited as another important influence, as is Johnston's elegant notations of just intonation.
Thompson states his goal in True Stories… was "to marry the machine with the warmth of human emotion…" Listening to it not only gradually reveals an unorthodox musical mind, but also what "in tune" in music is.