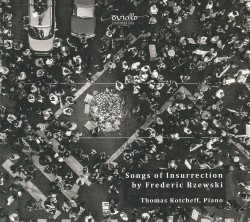 Songs of Insurrection by Frederic Rzewski
Thomas Kotcheff
Coviello Contemporary COV92021 (covielloclassics.de/en)
Veteran American composer and virtuoso pianist Frederic Rzewski (b. 1938)It's still true that most Americans care more about the price of meat than they do about the exploitation of Bolivian miners."
Already 45 years ago Rzewski set the bar high in his 1975 The People United Will Never Be Defeated, an hour-long piano tour de force of 36 variations on a Chilean workers' song. It has received over 15 commercial recordings to date, the first of which garnered a 1979 Grammy nomination. His even more epic Songs of Insurrection (2016) is Rzewski's eloquent sequel to his 1975 masterwork. Presented here in its first recording by brilliant early-career American pianist Thomas Kotcheff, the composition reaches to the music of the world's peoples for inspiration. Each of the seven movements is inspired by a song from a different country.
For example Die Moorsoldaten (The Song of the Deported) was written by prisoners of the Börgermoor concentration camp, Ain't Gonna Let Nobody Turn Me Around is an American civil rights hymn and Oh Bird, Oh Bird, Oh Roller dates from the Korean Peasant Rebellion of Donghak.
On one level Songs of Insurrection takes us on a global journey through social uprising. On a musical level the work is a sophisticated compendium of multiple piano idioms. They range from 19th-century romanticism, modalism, to pantonality, serialism and haunting experimental sounds coaxed from inside the piano.
Rzewski hailed this performance as "magnificent." I too was swept away by the emotion in this work brought to life by Kotcheff's passion and authoritative command of his instrument.