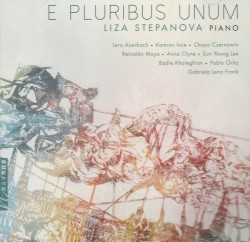 E Pluribus Unum
Liza Stepanova
Navona Records nv6300 (navonarecords.com/catalog/nv6300)
Although COVID is first and foremost a global health issue (and a crisis), it is also a political one. Without a doubt, there has been, and will continue to be, robust artistic responses to the virus, the mounting death toll and the ongoing lockdown. While the dissemination of artistic expressions are suffering at the moment – given furloughed touring and venue closure – the coalescing of political commentary and artistic expression has birthed a renaissance of music of all genres whose practitioners try and make sense of the current state of affairs in sound.
While 2021 may go down in history as achieving a high-water mark of politically inspired music-making practices, pianist Liza Stepanova was ahead of the curve when she looked somewhat earlier to the turbulent American political landscape of 2017 when then-President Trump's isolationist immigration policies were demonizing foreigners and breaking cross-border families apart. In response, Stepanova programmed a sprawling and challenging, but always musical, set of solo piano pieces composed by American composers of immigrant backgrounds. In part, her effort here was an attempt to shine a light on the contributions that immigrants make to the fabric of American musical life. But what is achieved is far greater than a political statement. As the album title (E Pluribus Unum – "Out of many, one") suggests, Stepanova has taken a diverse range of composers with no other connection than a shared immigrant past and created a singularly unified, coherent and beautiful statement that stands up not just politically, but musically and artistically.