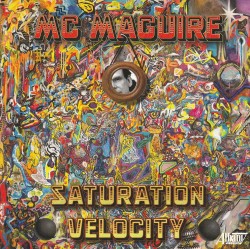 MC Maguire – Saturation Velocity
MC Maguire; Keith Kirchoff; Bryan Holt
Albany Records TROY1843 (albanyrecords.com)
Toronto composer/producer M.C. Maguire is a music alchemist, making sophisticated post-modern musical hybrids combining Western classical, pop, jazz and electroacoustic elements. His works often transform electronics, samples and acoustic instrument soloists into an intense wall of sound, accumulating up to 300 tracks.
Maguire's fourth album, Saturation Velocity, is no exception, though it's important to observe that his compositions are centred on carefully notated sheet scores, for the solo acoustic instruments at least.
According to the composer's notes, the first track A Teenage Dream for piano & CPU (" for the less-computer-savvy like me) is based on four songs by pop singer/songwriter Katy Perry. Other source material used – to contrast the pop elements – are bits of Thomas Tallis ("for religiosity," comments the composer), plus two passages from Wagner's Das Rheingold. The structure of the work consists of four large murals each inside an Alban Berg-ian "forward/retrograde ordering," that formally connects the murals. But what I hear is essentially a complex, nearly 29-minute piano concerto with CPU accompaniment, featuring four solo piano cadenzas which Maguire cheekily calls, "Bill Evans plays Schoenberg." American experimental music virtuoso, pianist Keith Kirchoff, turns in a spectacular performance here, though some of his pianism gets lost among the dense sonic jungle overgrowth.
Sade auf Kashmir, another concerto – this for cello with CPU – is based on the sonic intertwining of singer Sade's No Ordinary Love and rock band Led Zeppelin's Kashmir. Toronto cellist Brian Holt lifts his technically demanding part off the page with accuracy and panache.
Will this music be your cup of tea? I don't know, but now it is mine.