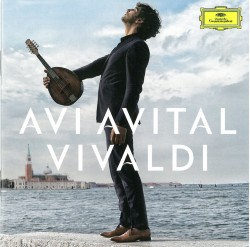 Vivaldi
Avi Avital
Deutsche Grammophon B0022627-02
The following review is excerpted from Terry Robbins April 2015 Strings Attached
Review
If you listen to Classical 96.3FM on anything resembling a regular basis you've probably heard the Israeli mandolinist Avi Avital's astonishing rendition of Monti's
Cz
á
rdas
(if you haven't, you can always watch it on YouTube). It certainly meant that I approached his latest CD,
Avi Avital Vivaldi (Deutsche Grammophon B0022627-02)
with keen anticipation, and I wasn't disappointed.
The mandolin has its roots in 17th- and 18th-century Italian music, and is particularly well suited to the style of Vivaldi. The composer's one concerto for the instrument, the Concerto in C Major RV425, is featured here along with three concertos, a sonata and a short movement all transcribed for mandolin by Avital.
Two of the concertos – the A Minor RV356 and the G Minor RV315, "Summer," from The Four Seasons, were originally for violin, and work particularly well on the mandolin, the two instruments sharing the same tuning. The Concerto in D Major RV93 was originally for lute. These are not huge pieces – the RV356 and RV425 concertos are both three-movement works less than eight minutes in length – but the predominantly upbeat tempos and Avital's clean, agile playing along with the lovely, light and airy accompaniment by the Venice Baroque Orchestra make for delightful listening.
The Trio Sonata in C Major RV82, originally for violin and lute, features a beautifully full continuo sound contributed by harpsichord, lute and cello. The short movement is the Largo from the Concerto in C Major RV443, originally for flautino.
Avital is joined by tenor Juan Diego Flórez in a beautiful rendition of the traditional Venetian song La biondina in gondoleta, which provides a lovely end to an extremely pleasant and entertaining CD.