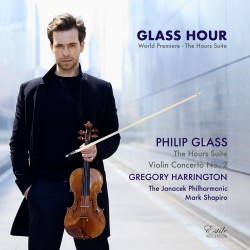 Glass Hour
Gregory Harrington
Estile Records 005 (gregoryharrington.com)
Listen
The Hours Suite (For Solo Violin and String Orchestra) II. The Poet Acts
Violin Concerto No. 2 "The American Four Seasons" Movement IV
Violin Concerto No. 2 "The American Four Seasons" Movement II
Read the Review
The following review is an excerpt from Strings Attached (December 2020) which can be read in its entirety here.
The New York-based Irish violinist Gregory Harrington founded the Estile Records label in 2006 (gregoryharrington.com), and has built a reputation for successfully transforming movie scores, jazz, rock and pop music into brand new violin concert pieces. His new CD Glass Hour with the Janáček Philharmonic under Mark Shapiro features music by Philip Glass, including the world-premiere recording of Harrington's The Hours Suite, his own attractive arrangement of music from the 2002 Oscar-nominated Glass score for the movie The Hours. The three movements – Morning Passages, The Poet Acts and The Hours – were respectively tracks 2, 1 and 14 on the soundtrack album, and as the timings are almost identical they would appear to be straight transcriptions.
Glass' Violin Concerto No.2 "American Four Seasons," scored for strings and synthesizer, is the other work on the CD. Glass left the four movements untitled, with a solo Prologue and three numbered Songs between the movements acting as violin cadenzas. There's a lovely feel to the slower sections in particular, although there are one or two moments in the fast perpetual motion passages where the intonation feels a bit insecure.