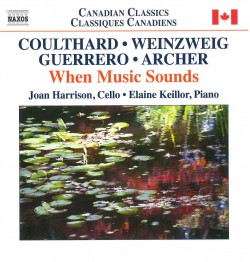 When Music Sounds
Joan Harrison; Elaine Keillor
Naxos 9.70126
The following is an excerpt from David Olds Editor's Corner December 2014
Review
It has been a hard choice this month winnowing down the plethora of new and exciting discs that have crossed my desk to the few that will fit in my allotted space. The top of the pile is a recent release on the
Naxos Canadian Classics
label,
When Music Sounds (9.70126)
, featuring cello and piano music by some of this country's most significant pioneers. I first heard rumours of this recording five years ago when I was preparing the discography for
John Weinzweig: Essays on His Life and Music
edited by John Beckwith and Brian Cherney (Wilfrid Laurier University Press, 2011). Noted pianist and musicologist
Elaine Keillor
notified us that she had just recorded Weinzweig's
Sonata for Cello and Piano "Israel"
(1949) with cellist
Joan Harrison
and although the disc was not available in time to be included in the book I have been looking forward to its release ever since. Although I did not realize how much time would pass before the disc would be in hand, I must say that seeing it released by Naxos with its global distribution has been worth the wait. Weinzweig's sonata, dedicated to the newly established state of Israel, blends his use of 12-tone technique, which he had been developing over a decade at that point, and Jewish-influenced melodies, with the cello acting as the voice of a cantor.
The disc is bookended by two works by Jean Coulthard, When Music Sounds, a short and very lyrical, if somewhat contemplative work dating from 1970 making it by far the most recent composition to be found here, and the Sonata for Cello and Piano (1946) which I must confess is my favourite selection with its shades of Debussy and cascading melodies. Violet Archer is represented by another work in traditional form, the four-movement Sonata for Cello and Piano (1956, rev.1972). Again a lyrical work, but with an edge, especially in the driving toccata-like finale. There is one delightful surprise on the disc, the charming Chants oubliés and Danse (1916) by someone whose name is very familiar, but not as a composer. Evidently Alberto Guerrero (1886-1959), likely best known as Glenn Gould's main (only?) piano teacher, was highly regarded as a composer, pianist and pedagogue in his native Chile before settling in Toronto. If this work is any indication we can only regret that he gave up composing, although we certainly have to be thankful that he did not abandon pedagogy since through nurturing the remarkable talents of Gould, Guerrero left an indelible mark on this country and the musical world.
Regarding the sound of the disc I do have a few qualms, mostly with the sound of the cello. Recorded in City View Church in Ottawa by Anton Kwiatkowski's Audio Masters I am surprised to find the cello quite harsh, a characteristic of the particular instrument itself rather than the playing I suspect. It works quite well in the Archer, but I would like a warmer sound in the more lyrical works. That thought notwithstanding, this is still a significant release. The recordings of the title track and the Guerrero are world premieres, the Archer has not previously existed on compact disc as far as I can tell and the Weinzweig and Coulthard sonatas have had only one iteration each on CD. Now, if we could have a recording of Barbara Pentland's cello sonata from 1943 please…