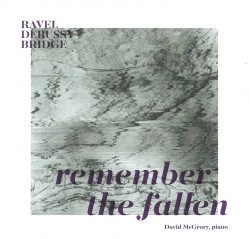 Remember the Fallen
David McGrory
Independent (store.cdbaby.com)
Listen
Le Tombeau de Couperin - I. Prelude
Le Tombeau de Couperin - V. Menuet
Bridge - Piano Sonata Mvt. I
Read the Review
The following review is an excerpt from Keyed In (February 2019) which can be read in its entirety here.
David McGrory's new release Remember the Fallen (store.cdbaby.com) marked the 100th anniversary of the end of the Great War, 1914-1918. He's chosen three works to represent the responses of composers affected by the conflict.
Le Tombeau de Couperin is Maurice Ravel's memorial to people he knew who had lost their lives in military service. Each of the work's movements is dedicated to them. It's not a directly programmatic piece and doesn't set out to capture the mood of the period. It's simply a contemporary expression inspired by Couperin's 17th-century keyboard suites. McGrory has an impressive facility with the speed Ravel requires to execute the Prelude, Rigaudon and Toccata but he makes his greatest impact with the very tender and heartfelt Minuet. There's a tremendous feeling of suspended melancholy that hangs over the entire movement. Gorgeous.
Frank Bridge's Piano Sonata gives McGrory a similar opportunity. Its second movement is an extended calm between the work's violent outer movements and his performance of it is profoundly moving.