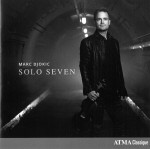 I begin this month with a hot-off-the-press solo violin release on the ATMA label. Solo Seven (ACD2 2748 atmaclassique.com) features works by seven Canadian composers including several written for the soloist, young scion of one of Atlantic Canada's most respected musical families. After initial studies with his father, renowned violinist Philippe, Marc Djokic continued his studies in the United States at the Cleveland Institute of Music's Young Artist Program, the New England Conservatory, and with Jaime Laredo at Indiana University. Winner of the 2017-2018 Prix Goyer, a Prix Opus and a former Instrument Bank recipient from the Canada Council, Djokic is currently artist-in-residence at CAMMAC (the Canadian Amateur Musicians association) and was recently named principal violin of the McGill Chamber Orchestra. Solo Seven marks his recording debut.
The disc begins with two virtuosic, moto perpetuo movements from Richard Mascall's Sonata for solo violin & Digital FX. The first movement, Labyrinth for amplified violin and digital reverb, which Mascall wrote in 1992 at the age of 19 while a first year undergraduate student, went on to success at the CBC Young Composers' Competition. In 1993 it was chosen to represent Canada at the International Rostrum of Composers and that same year Mascall completed the five-movement sonata. At The Corner House, a reference to a chic Toronto restaurant where the composer worked for a time, is the final movement and it culminates with a blazing cadenza-like "guitar solo," actually a transcription of an infamous passage from Eddie Van Halen's iconic Eruption. I must say that it translates effectively to violin, especially in the hands of this young master.
We are also presented with selections from Noncerto RR3, Noncerto Notre-Dame-de-Grace by Matthias Maute. I was familiar with Maute as the director of Ensemble Caprice and as a flute and recorder soloist, but this was my introduction to his work as a composer. The opening Sparkle – Andantino is a warm and gentle movement where the sparkle is more reflective than effervescent. Chopin – A tempo giusto juxtaposes ebullient arpeggiated sections with contemplative melodic moments. Casareccia – Chaconne Prestissimo, is as you would suspect, primarily boisterous although not without some elongated double-stopped melodic passages, providing an exciting finale.
Vincent Ho's brief Morning Song, evidently begun and finished while watching a single sunrise, gives respite from the whirlwinds that precede it, somewhat reminiscent of The Lark Ascending. Serbian-born Ana Sokolovic is also represented by excerpts, in this case two movements from Five Dances for Violin Solo which the composer tells us, although modelled on the Baroque suite are actually imaginary dances based on the rhythmic improvisations that are characteristic of the folk music of the Balkans. There are echoes of the Baroque in Kevin Lau's Tears as well, which he says draws inspiration from Bach's Chaconne in D minor, "whose dramatic three-part arc influenced the architecture and tonal centre of my own piece"; but also from Berio's Sequenza VIII, "whose searing narrative made a stunning impression on me as a student." Lau wrote the piece while a student at U of T in 2006, but revised it in 2017 for the purpose of this recording.
Murray Adaskin's Vocalise No.1 was composed for clarinet solo in 1989 and adapted three years later for violin and dedicated to Andrew Dawes, founding first violinist of the Orford Quartet. Throughout this work, the composer uses a melody which reoccurs in undulating variations, gradually rising in pitch and giving the impression of moving from darkness to light. Incidentally, it was Andrew Dawes who performed Mascall's Labyrinth during the CBC Young Composers Competition.
This in effect brings the disc full circle, but wait, there's more, in the form of an "encore" piece Dystopia by Christos Hatzis. Hatzis tells us that, "Hidden behind the hyper-virtuosity and relative brevity,
this piece is a meditation on the causes of religious intransigence, disenchantment and, ultimately, jihad. The literal meaning of the title (a 'terrible plac') refers to the current conflict between narrowly defined religious creeds, particularly the conflict between the Moslem world, and the so-called Western civilization, or modernity." It provides a timely and fitting coda to this fine recording.
I look forward to further releases from Marc Djokic, and to hearing the other movements of Mascall's, Maute's and Sokolovic's suites on some future occasion.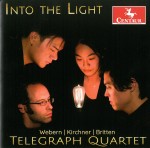 One of the first works I ever heard that integrated electronics with live performance was American composer Leon Kirchner's 1966 String Quartet No.3 with electronic tape. It was an epiphany for me and an introduction to a brave new world. On Into the Light (Centaur CRC 3651 centaurrecords.com), the Telegraph Quartet performs an earlier work by Kirchner, the String Quartet No.1 from 1949, a gnarly modernistic composition, that while lacking any electronic extensions of the sound world manages to push the envelope in its own ways. The third movement Divertimento seems to foreshadow the world of Schnittke's "ghost waltz" and the Adagio final movement anticipates late Shostakovich. Another revelation to me, or more accurately a reminder, as I know I have this piece in my vinyl collection and first heard it nearly half a century ago, of how forward-looking Kirchner was in those early postwar years.
This new disc pairs the Kirchner with Anton Webern's Funf Satze (Five Movements) for String Quartet, Op.5 from 1909 and Benjamin Britten's Three Divertimenti (1936). I will borrow from Kai Christiansen's note about the Webern because "I couldn't have said it better myself!" He tells us in part that the music is "atonal, exquisitely colourful, shockingly brief and so mysteriously evocative. Like five epigrammatic character pieces from outer space, they conjure eerie landscapes, fantastic atmospheres as well as ineffable inner spaces." The Telegraph Quartet's realization of these "jewels" (Stravinsky) is crystalline and thoroughly engrossing. The Britten miniatures – although relatively epic when compared to Webern's haikus – provide a dramatic contrast: an angular and majestic March, lilting Waltz and playful presto Burlesque. All in all, a welcome addition to my string quartet collection (with apologies to Terry Robbins).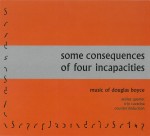 Some Consequences of Four Incapacities (new focus recordings FCR205 newfocusrecordings.com/catalogue/douglas-boyce-some-consequences-of-four-incapacities) features extremely esoteric – I would say old school new music – chamber compositions by American composer Douglas Boyce. The disc opens with 102nd & Amsterdam, performed by members of the Aeolus Quartet. The work honours the composer's father and his love of New York City. It begins in near silence with nervous scratching and harmonics in the high strings. Ever so gradually, melodies emerge and a cello solo comes to the fore. Later the violin and viola join in a furious round of glissandi and dense choppy rhythms. Eventually the eerie atmosphere of the opening returns as "this portrait of an urban crossing beautifully captures how one spot in a city can contain an entire universe." Members of counter)induction perform the brief but intense Piano Quartet No.1 which is a splendidly raucous homage to Boyce's youthful love of Bartók and King Crimson.
The final work, filling more than half of the disc, is the intriguing Fortuitous Variations, in four movements performed by Trio Cavatina. There are literally pages of program notes about this piece in the covering letter I received from Boyce, on the one-sheet press release and in the extended notes on the new focus website (the disc itself has none). Boyce writes "The CD's title is borrowed from an essay of C.S. Peirce, the inaugurator of philosophical Pragmatism and its particularly ferocious rethinking of the potential of thought in comparison to practice. […] There is a darkness here, as there is in so much of Peirce – a seeming submission to human finitude, to limits both cognitive and biological. And, I think, that gothic and mournful mood carries across all the works on the disc." The movement titles – every deduction involves the observation of a diagram; the vastness hitherto spoken of is as great in one direction as in another; so it is rather the whole river that is place, because as a whole it is motionless and the dawn and the gloaming most invite one to musement – presumably refer further to Peirce and his development of "America's great contribution to philosophy." The web notes tell us (in part): "Charles Sanders Peirce (1839–1914) is a fascinating figure philosophically, historically, and biographically. [...] founder of an intellectual enterprise committed to disrupting all foundations. His most inventive work addressed language, communication, and symbology; the pure volume of his output on pretty much everything is quite belittling to one's own sense of capacity – mathematics, mathematical logic, physics, geodesy, spectroscopy, astronomy, psychology, anthropology, history, and economics." How this actually relates to the music and its composition is beyond me, but Boyce, who is associate professor of music at George Washington University, has found in it inspiration to create a compelling cycle of works. Recommended for those who are not concerned with finding hummable tunes in their craggy contemporary music. The performances are all outstanding.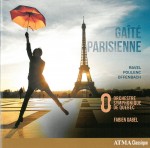 The final disc this month provides a bit of a "guilty pleasure" or at least a nostalgic trip down memory lane. I believe I first heard Offenbach's Gaîté parisienne in my early teenage years on my mother's Reader's Digest collection of great classical favourites (I don't remember the exact title, but it was about ten LPs and had more or less what you'd expect in a sampler). A new ATMA release by the Orchestre Symphonique de Québec under the direction of Fabien Gabel – Gaîté Parisienne (ACD2 2757 atmaclassique.com) – features that cancan-filled work along with Ravel's Valses nobles et sentimentales and Poulenc's suite from Les Biches in spirited performances. Paris-born Gabel, director of the OSQ since 2012, brings with him an innate love and understanding of French repertoire as witnessed in this, OSQ's fifth ATMA, and 25th overall release, recorded live in Salle Louis-Frèchette, Grand Théâtre de Québec in May of this year.
Ravel's love of the waltz, "You know my great liking for these wonderful rhythms," resulted in a set of eight piano pieces in 1911, titled in homage to Schubert who had published two collections, Valses nobles and Valses sentimentales. Ravel orchestrated his set and in 1914 it was premiered under the direction of the legendary Pierre Monteux (who incidentally conducted the OSQ in 1962). Less well known is Poulenc's ballet suite, but it provides an appropriate bridge to the final work that is the icing on the cake, Offenbach's Gaîté parisienne, created in 1938 for Les Ballets de Monte Carlo with choreography from Léonide Massine, one of the leading lights of the former Ballet Russes. We are here presented with a half-hour long suite arranged at Massine's request, by Manuel Rosenthal drawing on the best of Offenbach's operettas, although primarily La vie parisienne. It ends with the gorgeous Barcarolle from Les contes d'Hoffmann, and a good time is had by all!
We welcome your feedback and invite submissions. CDs and comments should be sent to: DISCoveries, WholeNote Media Inc., The Centre for Social Innovation, 503 – 720 Bathurst St. Toronto ON M5S 2R4. We also encourage you to visit our website, thewholenote.com, where you can find enhanced reviews in the Listening Room with audio samples, upcoming performance details and direct links to performers, composers and record labels.
David Olds, DISCoveries Editor
discoveries@thewholenote.com