It's just about a year since I retired from New Music Concerts after two decades as general manager, but I can't seem to get away from the (great) memories. At the invitation of artistic director Robert Aitken, the 2000/2001 season began with the Caput Ensemble of Iceland, a country that had previously captured my imagination and sparked dreams of travel. Although it would be more than a decade before I would experience the magic isle in person, this was my first exposure to the wonderful people and culture of the fabled land. It created an impression that stuck with me and was confirmed in 2012 during a two-week visit to Iceland with Bob Aitken, his wife Marion and my wife Sharon. As a result of his career as a flute soloist and chamber musician it was Bob's 16th trip there. He seemed to know everyone in the country and we were made to feel almost like family.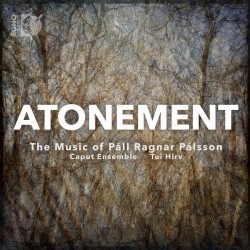 It was truly a trip of a lifetime for me, and one I realize I have mentioned again and again in this column. My excuse this time is a new Caput recording, Atonement, featuring music by Pàll Ragnar Pàlsson (Sono Luminus DSL-92241 sonoluminus.com/store/atonement). Pàlsson, who began as a rock musician, changed his focus in his late 20s. After undergraduate work at the Iceland Academy of Arts he went on to a master's degree at the Estonian Academy of Music and Theatre where he studied with Helena Tulve (one of many international composers I had the pleasure of meeting during my tenure at NMC). It was there that Pàlsson met his future wife, soprano Tui Hirv, whose voice is featured extensively on this disc.
The title track is a setting of a poem by fellow Icelander Ásdís Sif Gunnarsdóttir for soprano, flute, piano, violin, viola and cello. The quiet, eerie instrumentation and the poem's final stanza – "Coming to terms with a new world, finally the moment you were waiting for" – aptly sets the stage for what is to come. The second piece Lucidity is an abstract work that adds clarinet and percussion to the mix (without soprano or viola). Hirv returns for Stalker's Monologue, from Andrei Tarkovsky's classic film Stalker, set for the whole ensemble (all of the above plus harp). A multilinguist and musicologist in addition to her exquisite vocal skills, Hirv provided the English translation of Tarkovsky's Russian text that appears in the booklet. Midsummer's Night, another poem by Gunnarsdóttir, is set for just flute, clarinet, harp and percussion with recitation by the author. Incidentally, I find myself writing this column on Midsummer's Eve, June 23. Both of Gunnarsdóttir's poems are in English. The disc culminates in Wheel Crosses Under Moss with a text assembled from various Swedish hymns from Vormsi Island in West Estonia. Featuring the "Pierrot" core of the ensemble in support of the guest soprano, it draws this striking portrait of the first Icelander to win the International Rostrum of Composers to a quietly dramatic close.
It has been 20 years since I first heard, and met, the members of Caput. There has been a complete change in personnel during that time with the exception of founding clarinetist Guðni Franzson who now serves as the group's conductor. Two things that haven't changed are Caput's commitment to contemporary Icelandic composers and its skill in bringing their music to life.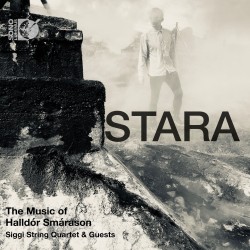 It seems that I'm not the only one. Sono Luminus CEO Collin J. Rae is also enamoured of Iceland's music and that small Virginia-based label has become a major promoter of Nordic culture under his stewardship. Hot on the heels of Atonement comes STARA, a portrait of another, younger Icelandic composer Halldór Smárason (DSL-92242 sonoluminus.com/store/stara) featuring the Siggi String Quartet and Friends. Smárason, was born in Ísafjörður, Westfjords in the northwestern part of Iceland in 1989. He completed an Advanced Level Piano Examination in 2009, a B.A. degree in composition from the Iceland University of the Arts in 2012 and an M.M. degree from the Manhattan School of Music in 2014. Smárason has received the Artists' Salaries four times, a state-funded support for selected Icelandic artists.
Founded in 2012, the members of Siggi String Quartet have worked with Björk, Jóhann Jóhannsson, Ensemble Modern, Atli Heimir Sveinsson, Caput, Slátur, Bedroom Community and Errata Collective as well as being key players of the Reykjavík Chamber and Iceland Symphony Orchestras.
The disc includes three string quartets, two mixed chamber works and Skúlptúr 1 for solo guitar and electronics performed by Gulli Björnsson. The quartet Stara, the earliest work on the disc, dates from 2012 during Smárason's American studies, where it won the Manhattan Prize. draw + play, the second quartet, heard first on the disc, was commissioned by the Siggi quartet. It is inspired by the accordion and the title is extracted from an old Icelandic word for the instrument. I find it intriguing how the composer uses the string instruments to replicate the sounds of distinctive extended contemporary accordion techniques. BLAKTA, the third quartet, is the most recent piece on the album. It was commissioned to celebrate Iceland's 100 years as a sovereign state and depicts a flag fluttering in various weather conditions, characterized by distinctive vibratos of different speed and density. Very atmospheric.
For the mixed ensemble works stop breathing and the intriguingly titled _a_at_na the quartet enlists the help of "Friends" Emilía Rós Sigfúsdóttir (bass flute), Geirþrúður Ása Guðjónsdóttir (violin), Helga Björg Arnardóttir (clarinet) and Tinna Thorsteinsdóttir (piano), as required. The latter piece is based on the composer's personal struggle with anxiety, and the title is a puzzle requiring the Icelandic word for anxiety to solve. Even the stage setup is affected by this very personal subject, with the piano isolated in the middle of the audience and the rest of the performers spread around the periphery. Evidently this can be heard in the fully immersive audio version of the album on the Pure Audio Blu-ray™ disc that accompanies the standard CD, although it is not available on the digital files from which I am working. Regardless of that, the angst certainly comes through convincingly, completing a very personal portrait of an important new voice.
It was in April 2003 that I had another "brush with greatness" thanks to New Music Concerts when George Crumb and his family came to Toronto to work with our musicians. Crumb had been an important part of the NMC family from the very early days to the extent that four of his pieces were included on an extended European tour in 1976. The first Crumb portrait concert had taken place at Walter Hall in 1974, with another at Premiere Dance Theatre in 1986 that included the premiere of An Idyll for the Misbegotten, dedicated to Robert Aitken, and then another at Glenn Gould Studio in 2003 as mentioned above. On that occasion Teri Dunn was featured in Federico's Little Songs for Children and daughter Ann Crumb sang the recently completed cycle Unto the Hills. Crumb was 74 at the time and he showed no signs of slowing down creatively.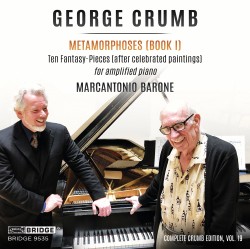 It seems that is still true and the latest Bridge Records release George Crumb Vol.19 is testament to this (bridgerecords.com/products/9535). On it Marcantonio Barone performs Metamorphoses (Book I) (2015-2017) subtitled "Ten Fantasy-Pieces (after celebrated paintings)" for amplified piano. Amplification has often been an important aspect to Crumb's instrumentation – the flute in An Idyll for the Misbegotten, the string quartet in Black Angels, and in almost his entire extensive piano repertoire. In most cases this is not to make the music loud, but rather to make the quietest subtleties of harmonics and extended techniques audible. The pianist is required not only to play upon the keyboard, but to venture inside the piano to pluck and strum and dampen strings, use fists, brushes, yarn sticks and other materials to caress and strike various wire, wood and metal surfaces, vocalize and employ a variety of small, mostly percussion, instruments to expand the solo piano into a real orchestra of timbre.
Highlights of the set for me include Goldfish (Paul Klee, 1925) with its echoes of Debussy's Poissons d'or and sustain-pedal, open-string resonance, Crows over the Wheatfield (Vincent van Gogh, 1890) with eerie cawing from the pianist, The Fiddler (Marc Chagall, 1912/13) with zither-like string strumming and dancing melodies, Contes barbares (Paul Gauguin, 1902) featuring Tahitian incantations and percussive outbursts, and The Persistence of Memory (Salvador Dalí, 1931) with nods to some of Crumb's favourite pieces, Mozart's Clarinet Concerto, Beethoven's Op.110 and the iconic hymn Amazing Grace. There are many references to Crumb's earlier compositions and in many ways these new works sound familiar. One sometimes wonders "Why does Grandpa keep telling the same stories?" but listen carefully; you'll find vast new worlds buried within them.
Although Book I is dedicated to Margaret Leng Tan, Crumb was evidently so taken with Barone's performance that he is the dedicatee of Book II, completed earlier this year, the composer's 91st. So, still not slowing down! I look forward to hearing the sequel and to future Bridge releases documenting the ongoing legacy of this great American composer.
IN BRIEF
Another Metamorphosis crossed my desk this month featuring 2004 Banff International String Quartet Competition laureates the Jupiter Quartet (Marquis Classics MAR499 marquisclassics.com/499_met.aspx). The disc, which will be released on August 7, honours the 250th anniversary of Beethoven's birth with his String Quartet Op.131 in C-sharp Minor, a work that violist Liz Freivogel describes as one that "quartet musicians picture [as] their ideal chamber music experience […] There are few other works that require such a prolonged and intense communion with one another." She goes on to say that Jupiter "naïvely" tried to learn the work in their first year together with limited success, but now, almost two decades later, feel they understand "a few more of the elements that make it so powerful." This performance is a fully mature one that convincingly captures the depth and breadth of Beethoven's masterpiece. Jupiter has paired it with one of the seminal quartets of the second half of the 20th century, Ligeti's Quartet No.1 "Métamorphoses nocturnes." Completed in 1954, the work is reminiscent of the quartets of Bartók and looks backward as much as forward while remaining rooted in the abrasive textures of the recent avant-garde, before metamorphosing to a "melancholy and lonely close." Once again the quartet excels, confirming not only its command of the literature in all its intricacies, but also its creativity when it comes to programming.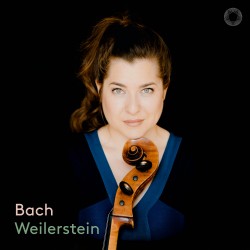 What to say about yet another recording of the Bach Cello Suites? Literally, my shelf runneth over, so it is actually a blessing to be working from digital files during the COVID crisis. But I do welcome this latest addition to the PentaTone catalogue, Bach Weilerstein (pentatonemusic.com/bach-cello-suites-alisa-weilerstein) featuring 2011 MacArthur Fellow Alisa Weilerstein.
As Jason Stell declares in the program notes, "The Six Suites for Unaccompanied Cello by J. S. Bach loom larger than any other works in the genre. They are the veritable Alpha and Omega of a cellist's art." It is no wonder then that every cellist aspires to "conquer" this summit, but it must also be daunting to try to find a new path where so many have gone before. I'll let Weilerstein explain her decision to undertake this journey:
"With their delicacy and nakedness, their strength and restraint, the cello suites present a unique and humbling challenge. After many years telling family, friends, and myself that I would attempt a recording only when I was much older, I decided that what had seemed like prudence was, in fact, a misunderstanding of the suites' nature. The intrinsic impossibility of this music is the very source of its freedom.
"I have been living with these suites since further back than memory can reach, and I have grown with them throughout my life with the cello. Great music is a reflection of life as it is lived, and this recording is a reflection of myself, in 2019, at 37 years old, steeped in and still discovering Bach's unparalleled accomplishment."
I'm very happy to have been invited to share this monumental undertaking with one of the finest artists of her generation. You should too!
We invite submissions. CDs, DVDs and comments should be sent to: DISCoveries, WholeNote Media Inc., The Centre for Social Innovation, 503 – 720 Bathurst St. Toronto ON M5S 2R4.
David Olds, DISCoveries Editor
discoveries@thewholenote.com