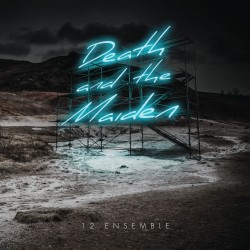 In Terry Robbins' Strings Attached column you will see Schubert's string quartet Death and the Maiden referred to as an "almost symphonic work," which fits right in with my first selection. 12 Ensemble is a string orchestra from the UK founded in 2012 by co-directors Eloisa-Fleur Thom and Max Ruisi. Touted on its website as a "modern, versatile and virtuosic ensemble, the group is built around a core of 12 of London's finest chamber musicians. Always playing without a conductor, the ensemble's acclaimed performances combine the energy, excitement and creativity of a small ensemble with the breathtaking sound afforded by a string orchestra." The core membership is supplemented as required by the repertoire and by my count from the video clip, there are 14 players involved in the group's transcription of the title work from Death and the Maiden (Sancho Panza digital release the12ensemble.com). The disc opens with John Tavener's transcription of his tranquil choral setting of Blake's The Lamb, which is followed by the tumultuous Schubert. Ruisi's program note includes an extended explanation of why 12 Ensemble chose not to use Mahler's well-known transcription of this iconic work. Instead they decided to go "back to basics, using Schubert's quartet parts and creating a double-bass part that adds impact and depth when required but is sensitive to the delicate balance of Schubert's orchestration." To my ear this is an effective treatment with only occasional moments of overbearingly thick textures. For the most part the playing is light, dynamic and convincing.
Some 45 minutes later we are granted respite from Schubert's emotional rollercoaster with Honey Siren, a three-movement work by Oliver Leith written especially for the ensemble in 2019. Leith tells us "I was thinking about sirens; the wailing kind, not the bird women singing on rocks. [...] They usually signal something ominous; these sirens do not. They are honeyed, dripping in globules of sweetness [...] like a smiling alarm." All is not entirely placid however and the last movement ends with some near-strident tension before the sirens fade. The brief final work is truly calming. It dates from an Icelandic residency in 2016 when ensemble member Guy Button came up with a string arrangement of Fljótavík by the band Sigur Rós. The sense of the original words – "We're sailing, stretching ourselves…We're sailing into land, unknown place…I felt myself happy there…we are really thankful" – is aptly captured in this gentle closer.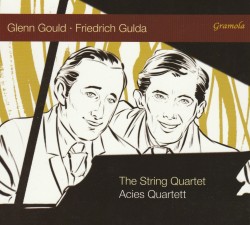 I am always pleased to encounter another recording of Glenn Gould's String Quartet Op.1. Since the original recording by the Symphonia Quartet under Gould's direction in 1960, there have been half a dozen or so more, most under the auspices of Gould anniversaries and celebrations, but in recent years a few stand-alone releases have appeared. You can find reviews of Alcan and Catalyst Quartet recordings in The WholeNote back catalogue (searchable on the website) from April 2009 and September 2015 respectively. The latest to appear is Glenn Gould; Friedrich Gulda – The String Quartet featuring the Austrian Acies Quartet (Gramola 99028 naxos.com). This intriguing pairing features quartets from early in the careers of two eccentric, accomplished pianists, their only ventures into the genre. While Gulda (1930-2000) is described as a pianist and composer, Gould is almost exclusively known as keyboard virtuoso. Of course we know of Gould's work as a radio documentarian, a genre which he approached in a most composerly fashion, but his actual musical output was minimal with the string quartet accounting for roughly half if considered by duration (about 35 minutes). We can be forgiven for looking on this work, composed around the age of 21, as an aberration. Unlike his performance practice of focusing on the Baroque era, and to a certain extent the 20th century, the quartet seems rooted in the romanticism of the 19th century and is positively lugubrious in its thick textures at times. I note that the first recording described it as "reflect[ing] Gould's love for Bruckner, Wagner, and Richard Strauss," a love that, as far as I can tell, was only otherwise manifest in his lone venture as a conductor (other than his own chorales) in his recording of A Siegfried Idyll. Be that as it may, this somewhat anachronistic work stands as testament to his understanding and command of the idiom.
Gulda, a man of broad tastes and talents, was as well versed in jazz as in the contemporary classical world. Born two years before Gould, Gulda's lifespan exceeded his coeval's by two decades, but he too wrote his only quartet at the age of 20. The String Quartet in F-sharp Minor was premiered in Vienna in 1953. Although not particularly forward-looking – no hints of postwar avant-garde tendencies here – it is firmly rooted in idioms of the first half of the century. With contemplative outer movements that are interrupted by a sprightly scherzo which itself gives way to a gentle middle section, the overall quartet has a slow-fast-slow-fast-slow arc. Incidentally, for those of you not familiar with Gulda the pianist, in the April edition of Old Wine in New Bottles, Bruce Surtees will be reviewing a newly issued set, Friedrich Gulda: Piano Concertos by Mozart, Haydn, Beethoven, Strauss on the SWR Music label.
The Acies Quartet, founded some 15 years ago, is now in the fifth year of its current membership. Having studied and participated in masterclasses with some of the world's outstanding ensembles – including the Alban Berg and Guarneri Quartets – it is not surprising that these still-young musicians play with an understanding beyond their years. Of note, besides excellent musicianship is their curatorial inspiration in bringing these two little-known works together. And kudos for the booklet which gives an insightful context to each, with essays by Jens F. Laurson (Gould) and Walter Gürtelschmied (Gulda).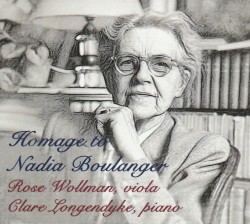 I have WholeNote alumna Simone Desilets to thank for bringing the next disc to my attention. Pianist Clare Longendyke was the recipient of the George Brough Memorial Endowment scholarship at the Banff Centre for Arts and Creativity in 2017 and the following year Desilets invited her to Toronto to participate in celebrations to mark Brough's centennial. Together with recital partner violist Rose Wollman, Longendyke recently released Homage to Nadia Boulanger (rosewollman.com) featuring works by the iconoclastic teacher and her lineage on the occasion of the 40th anniversary of her death. Boulanger (1887-1979) mentored many of the leading composers and musicians of the 20th century, among them such notable Canadians as Gabriel Cusson, Jean Papineau-Couture, István Anhalt, Maurice Blackburn, Gabriel Charpentier, Pierre Mercure, John Beckwith, Sterling Beckwith, Roger Matton, Walter Buczynski and Arthur Ozolins, to name a few of the more than 60.
This Homage begins with Le Grand Tango by Astor Piazzolla, who studied with Boulanger in his 30s when he was already an established tango artist. Wollman says the duo worked extensively with tango experts to ensure an authentic performance of this idiomatic work and that she is currently preparing a transcription of their approach into an "edition that will help classically trained musicians perform this piece stylistically." The disc continues with Boulanger's own Trois pieces pour violoncelle et piano in Wollman's arrangement for viola. Two gentle movements of great beauty are followed by a driving finale reminiscent to my ears of Prokofiev, described as vite et nerveusement rythmé.
The project claims to include Boulanger and her students and "great grandstudents." I wondered what this latter term meant and was told that the youngest of the composers included – Gabriela Lena Frank (b.1972) – studied with William Albright and Samuel Jones who studied with Ross Lee Finney and Bernard Rogers respectively, who in turn were themselves students of Boulanger. A bona fide lineage indeed. Frank's contribution is a lilting and mostly lively dance suite titled Cinco Danzas de Chambi (2006), inspired by the work of Peruvian Martín Chambi (1891-1973), the first Amerindian photographer to achieve international acclaim. The suite ends hauntingly with the mournful Harawi de Chambi.
The most substantial work presented here is also the last on the disc. Emile Naoumoff is a French pianist and composer who was born in Bulgaria in 1962. Wikipedia tells me that "At the age of eight, after a fateful meeting in Paris, he became the last disciple of Nadia Boulanger, who referred to him as 'the gift of my old age'. He studied with her until her death in late 1979." The Sonata for Viola and Piano dates from 2001 and was revised eight years later. It is in one extended movement, beginning darkly but gradually moving toward the light. A pizzicato theme passed back and forth between the instruments introduces a lyrical section before the piece gradually returns to quiet calmness. The Wollman-Longendyke duo worked extensively with Naoumoff in preparation for this recording, about which he has said, "Wonderful playing and captivatingly generous narrative sound quality! Thank you for playing my sonata with such solar depth!" No argument from me – I expect the other composers would (have) agree(d).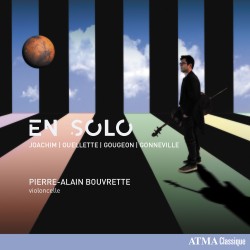 I seem to be shedding instruments at every turn in this column. I'm down to one cello in the final entry, En Solo,featuring challenging works by Canadian composers very ably performed by Pierre-Alain Bouvrette (ATMA ACD24039 digital release atmaclassique.com). As an amateur cellist and avid collector of Canadian music, I welcome this addition to the catalogue, but I must admit a number of frustrations with this digital only release. I find the recording quality and performance very satisfactory, but the digital booklet leaves much to be desired. There is a biography of this young and accomplished cellist, who for more than a decade has played with the renowned Molinari Quartet, but about the composers there is no information except for their years of birth (and death in the case of one) or about the pieces. There are hyperlinks which in three cases lead to Canadian Music Centre biographies, and in the fourth to Michel Gonneville's own French-only website. There is also a link to Gonneville's program note, but no notes for the other works even on the CMC site. Frankly I have come to expect more from the otherwise excellent ATMA label.
The opening selection is Paean, a 1989 composition by Otto Joachim (1910-2010, two and half months shy of his 100th birthday!). I believe this is its first commercial recording, but fortunately I have in my collection a Radio Canada portrait disc devoted to the works of Joachim which includes a broadcast recording of the premiere in 1992 by the dedicatee Guy Fouquet. (I believe my photographer friend André Leduc and I were actually at that performance which took place during the Quinzaine du violoncelle in Montreal.) Thanks to the Radio Canada release I am able to tell you that in his program note Joachim says that "Paean is mainly a 12-tone work but I subconsciously integrated into the series a melodic pattern from a Tamil raga that I knew, thereby creating a haunting melisma. I added to those long sustained notes a rhythm based on the tabla heard in this very raga…" He added "One assumes that it is harder to find ideas at 80: this was not the case with Paean, which I wrote in a relatively short time." Now that's the kind of information and insight that I find helpful when listening to a contemporary work.
It's a shame that we are left wanting with two of the other pieces, Antoine Ouellette's Psaume, Op.5 which dates from 1982 and was revised in 2013, and Denis Gougeon's Six Thèmes Solaires: Pluton from 1990, revised in 2014. These meagre details I was able to glean from the CMC catalogue of works, along with the information that Gougeon's six themes are each scored for different instruments or instrumental combinations and take their names from planets (Pluton = Pluto); and I suppose that Ouellette's title is self-explanatory. As mentioned, Gonneville's website does provide a description, in French, and a translation of the German title Hinauf, dem Bach entlang. My understand of the French is "walking up along the brook" and there is a pun here on the name of Bach, which means brook in German. Gonneville says the piece takes some of its inspiration from Bach's Solo Cello Suite No.5. Perhaps a bit ironically, it is Gougeon's piece that is most reminiscent of Bach's solo cello writing to my ear, not Gonneville's. All that being said, this is still an important addition to the catalogue, and my collection, and it's great to get to hear Bouvrette come into his own with this solo tour de force.
We invite submissions. CDs, DVDs and comments should be sent to: DISCoveries, WholeNote Media Inc., The Centre for Social Innovation, 503 – 720 Bathurst St. Toronto ON M5S 2R4.
David Olds, DISCoveries Editor
discoveries@thewholenote.com