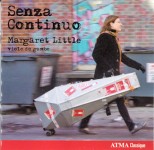 Senza Continuo
Margaret Little
ATMA ACD2 2612

The formidable gamba player Margaret Little – one half of the legendary Montreal duo Les Voix Humaines – is "a chamber musician at heart" and "this is her first adventure in solo repertoire." So says the bio of her at the back of the booklet of this outstanding recording. From the opening strains of the first of three preludes by Jean de Sainte-Colombe which open the disc, I was transfixed by Little's tone and freedom of sound. The varied program of music ranges from the late 16th century to the early 18th and clearly demonstrates why this instrument was so beloved, particularly in France.

Two solo suites, one by Le Sieur de Machy – a 17th century viol player about whom virtually nothing is known – and another by the celebrated virtuoso Marin Marais, make up the meat of the program and are both played with ease, elegance and poetry. Little has complete command of the ornamentation and character of each dance movement, and manages to convey the beautiful emotional arc of both large works. The rest of the CD is made up of four airs by the English composer Tobias Hume and two short "recercatas" by Italians Aurelio Virgiliano and Giovanni Bassano.

This lovely recording is a reminder of how special and expressive the viola da gamba is. In the hands of a confident and tender musician such as Little, a strong case is made for the unique solo repertoire of this oft undervalued instrument.