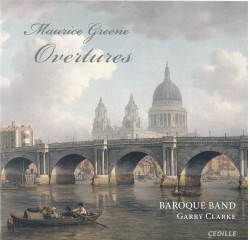 Maurice Greene – Overtures
Baroque Band; Garry Clarke
Cedille CDR 90000 152
Aficionados of English classical music endured decades of the taunt "Who was the greatest English composer between Purcell and Elgar? Handel!" Dr. Arne's masque Alfred (including Rule Britannia) and William Boyce's eight symphonies ("as English as a country garden") somehow weren't up to scratch. William Boyce's tutor was Maurice Greene, who is forgotten even among baroque enthusiasts. Enter Chicago-based Garry Clarke and the Baroque Band. Their interpretation of Greene's Overture for St. Cecilia's Day is lively and effervescent – how appropriate for the patroness of music!
This spirited approach continues with the allegro assai, andante and vivace of Greene's first overture (D major). The other overtures too, delight the listener: note the chirping first allegro of the fourth overture or the presto of the fifth, just two of what the sleeve-notes describe as "whistleable melodies." And what else does the Baroque Band cram into this wonderful introduction to Maurice Greene? Well, Greene composed a pastoral opera Phoebe. The allegro to its overture must have conveyed a tremendous sense of expectation to the audience.
There's even more. David Schrader is soloist in Greene's Collection of Lessons for the Harpsichord. As an example, the pieces in C minor are demanding but still bring home the liveliness of English baroque music. Greene deserves much more recognition, not least as he was organist of St. Paul's and of the Chapel Royal, Master of the King's Music and Professor of Music at Cambridge. Garry Clarke is, I hope, the pioneer of a long-overdue revival.