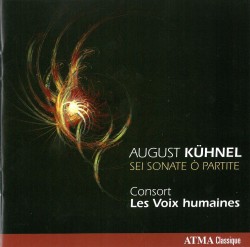 August Kuhnel – Sei Sonate O Partite
Les Voix humaines
ATMA ACD2 2644
Solo, rather than consort performances of the bass viol increased in popularity – not to say melodic and harmonic potential – in Europe in the mid-17th century. France emerged as a key centre for bass viol solo music but Germany was not so far behind. August 1645 saw the birth of August Kühnel in Saxony. Kühnel's father Samuel, himself a composer and viol player, trained him to the extent that he was appointed viola da gambist to the court orchestra of Maurice, Duke of Saxe-Zeitz.
Only Kühnel's six sonatas or partitas were published; the rest of his music survives as manuscripts. In fact, the partitas deserve a wider audience. They start with a prelude which features rich embellishments and follow with rigorous allegros and adagios. Susie Napper, Margaret Little and Mélisande Corriveau tackle these movements with gusto. Their playing is reminiscent of what was called stylus phantasticus, a demanding interpretation which tests the bass viol player with its rigorous scoring.
Sonata I sets the pace in this respect even if Sonata II is more restrained; the former could almost be one of the folk-tune settings which had inspired early 17th-century viola da gamba players. Sonata III falls somewhere between its predecessors. This is not surprising as it is annotated solely as aria variata by Kühnel.
It is Kühnel himself who encourages the spirited playing of the Voix Humaines Consort as he himself acknowledges that it is impossible to annotate everything: he places an apostrophe where he requires an ornament to be played, leaving performers free to choose trills, vibratos, appoggiaturas and many others! It is a bit like leaving schoolchildren free to roam in the chemistry laboratory or, in the sleeve-note writer's words, "the telepathic communion of a pair of jazz saxophonists."
And the last three sonatas? The country-dance characteristics of some of their movements is certainly brought out, particularly in Sonata V, while Sonata VI is very reminiscent of the music accompanying baroque dramas. It is easy to see why Napper and Little are so admired for their interpretations of this genre.