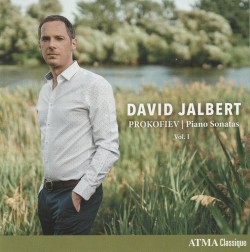 Prokofiev – Piano Sonatas Vol.1
David Jalbert
ATMA ACD2 2461 (atmaclassique.com/en)
Sergei Prokofiev began his career as a concert pianist, so perhaps it's not surprising that music for piano would comprise such an important part of his output. Undoubtedly his finest keyboard writing is to be found in the nine piano sonatas composed between 1907 and 1953, four of which are presented on this ATMA recording with pianist David Jalbert. A graduate of the Conservatoire de musique du Québec, the Glenn Gould School and the Juilliard School, Jalbert is currently head of the piano department at the University of Ottawa.
The brief Sonata Op.1 in F Minor from 1907 went through numerous revisions and is very much steeped in the late-Romantic tradition. From the outset, Jalbert demonstrates keen understanding of this daunting repertoire tempered by a flawless technique.
While the first sonata has roots in the 19th century, the second from 1914 is clearly a product of the 20th, with its biting dissonance and angular melodies. Very much the music of a young composer finding his own voice, the work embodies a spirit of buoyant enthusiasm. The single-movement Sonata No.3 completed in 1917 contains a variety of contrasting moods all within a seven-minute timeframe.
Jalbert admits his partiality towards the Fourth Sonata, Op.29, also finished in 1917. Again, the work is a study in contrasts, from the restrained and darkly introspective first movement to the exuberant finale, which Jalbert performs with great panache.
An added bonus is the inclusion of four miniatures, the Marche, the Gavotte and the Prelude from the set Op.12 and the Suggestion diabolique from Op.4, which further enhance an already satisfying program. This is a stellar performance of engaging repertoire and we look forward to future additions in this series.