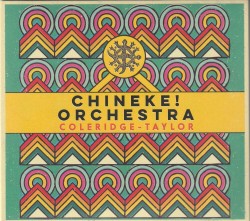 Coleridge-Taylor
Chineke! Orchestra
Decca 485 3322 (chineke.org/news/new-album-release-coleridge-taylor)
New Yorkers called him the "Black Mahler," probably because he and then-New York-based Mahler were both composers and conductors. Now, his very un-Mahlerish, Weltschmerz-free compositions are increasingly performed and recorded, paralleling America's belated recognition of Black composers.
London-born Samuel Coleridge-Taylor (1875-1912) was the son of Englishwoman Alice Martin and physician Daniel Taylor from Sierra Leone, who returned to Africa before Samuel's birth. His mother named him after the famous poet; Samuel added the hyphen. Successful in England, he made three U.S. tours and was welcomed at the White House by Theodore Roosevelt. Coleridge-Taylor's early death was from pneumonia.
This two-CD set presents seven of his compositions and one by his daughter performed by London's Chineke! Orchestra, founded in 2015 as Europe's first predominantly Black and ethnic-minority orchestra. (Chineke means "God" in Nigeria's Igbo language.)
American violinist Elena Urioste's warm, velvety tone caresses Coleridge-Taylor's lyrical melodies in two works conducted by Kevin John Edusei. The songful, openhearted, 31-minute Violin Concerto in G Minor, Op.80 features imposing fanfares and a sweet, wistful violin melody (Allegro maestoso), a serenely reverent nocturne (Andante semplice) and a cheerful, Scottish-tinged marching tune (Allegro molto) –themes from the previous movements joining in at the concerto's celebratory conclusion. The nine-minute Romance in G, Op.39, is a dreamy pastorale with a brief, dramatic central section, Urioste's violin singing throughout.
Two works purportedly influenced by Coleridge-Taylor's African heritage instead conjured for me fin-de-siècle Vienna or Paris. Edusei conducts the genial, light-textured, African Suite, Op.35; Kalena Bovell leads the more dramatic, colourful, Ballade in A Minor, Op.33.
The theatrical Othello Suite, Op.79, conducted by Fawzi Haimor, begins with Dance – urgent fanfares and a headlong march – followed by the smiling Children's Intermezzo, stately Funeral March and The Willow Song, poignantly "sung" by a trumpet over hushed winds, strings and percussion. The grandiose Military March ends the suite. Anthony Parnther conducts Coleridge-Taylor's Petite Suite de Concert, Op.77, its frothy, sentimental, balletic tunes once frequently heard at band and salon concerts, on piano rolls and recordings. The Chineke! Chamber Ensemble performs the Brahmsian, four-movement Nonet, Op.2, for winds, strings and piano. Composed by the 19-year-old Coleridge-Taylor while studying at London's Royal College of Music, it displays his already considerable melodic gift.
Roderick Cox conducts the 13-minute Sussex Landscape, Op.27 (1936) by Avril Coleridge-Taylor (1903-1998). Her rhapsodic, powerful evocation of a storm-swept, grey-shrouded English seacoast receives its overdue, much-deserved first recording.