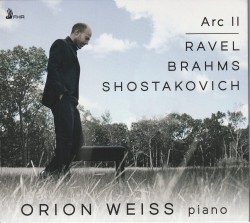 Arc II: Ravel; Brahms; Shostakovich
Orion Weiss
First Hand Records FHR1128 (firsthandrecords.com)
This FHR CD titled Arc II featuring American pianist Orion Weiss, is the second in a projected three-disc set, all of which aim to address the ways composers come to grips with the emotion of grief. A native of Cleveland, Weiss studied at the Cleveland Institute and the Juilliard School and has an impressive list of awards including winner of the Classical Recording Foundation's Young Artist of the Year.
The disc opens with Ravel's Tombeau de Couperin, an homage not only to the French Baroque tradition, but to fallen friends in the First World War. Weiss' playing is elegant and thoughtfully nuanced where he artfully captures the spirit of the early clavecinists.
Brahms' Variations on a Theme by Schumann from 1854 was written when the composer was all of 20, shortly after his introduction to the Schumann family and just four months prior to Schumann's attempted suicide. The piece is very much a study in contrasts which ultimately lead to a gentle finale.
In complete contrast is the Piano Sonata No.2 by Dmitri Shostakovich, composed in 1943 and dedicated to the composer's teacher and friend Leonid Nikolaev who perished that year in the mass evacuation from Leningrad. The opening movement is raw and emotional with Weiss easily handling the formidable technical demands, while the second movement largo is clearly a haunting epitaph for his late friend. The finale opens with a sombre theme followed by nine variations and a quiet conclusion.
The final two choral preludes from Brahms Preludes Op.122 written shortly after the funeral of Clara Schumann round out a well-chosen program, masterfully performed – we can look forward to the third disc in the series.