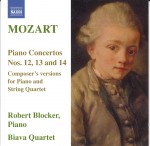 Mozart - Piano Concertos 12, 13 & 14
robert Blocker; Biava Quartet
Naxos 8.557881
In January 1783 there appeared an advertisement in the Wiener Zeitung from no less a composer than Mozart who was announcing the publication of three new piano concertos that could be performed "either with a large orchestra… or merely a quattro, that is, with 2 violins, 1 viola, and violoncello." These concertos were the first Mozart wrote after his move to Vienna in 1781, and are presented here performed by the Biava Quartet with pianist Robert Blocker.
The Biava was formed at the Cleveland Institute of Music in 1998, and since then, has gone on to win top prizes including the London International Competition and the Nuremberg Chamber Music Award. The American-born Blocker has enjoyed a multifaceted career as pianist, educator (at Yale University), and music advisor for such prominent institutions as the Avery Fisher Artist Program, and the Curatorium of the Ferenc Liszt Academy of Music in Budapest.
What a joyful sound these musicians create – this is surely "Mozart with a smile on his face!" The Biava plays with a keen precision, providing a solid accompaniment for Blocker's lucid and sensitive interpretation. This most sympathetic pairing between quartet and piano is clearly evident, for example, in the cheerful opening movement of concerto No.12, the languorous second movement of No.13, and the sprightly finale from the fourteenth, all duly presented in a stylish manner of which Mozart surely would have approved. Indeed, to my mind, the smaller resources found here result in a wonderful sense of intimacy, transporting the listener from the vast space of the concert-hall to a private chamber in 18th century Vienna.