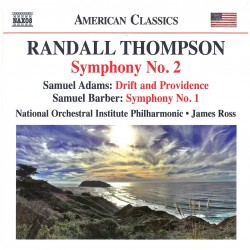 Randall Thompson – Symphony No.2; Samuel Adams – Drift and Providence; Samuel Barber – Symphony No.1
National Orchestra Institute Philharmonic; James Ross
Naxos 8.559822
A trio of American composers – Randall Thompson, Samuel Adams and Samuel Barber – are featured on this Naxos American Classics CD, the second in a series of recordings performed by top conservatory students of Maryland's National Orchestral Institute Philharmonic conducted by James Ross.
Despite being written during the Great Depression, Thompson's Symphony No.2 from 1931 is anything but angst-ridden. The opening movement is lively and spirited, owing much to the jazz rhythms of the 1920s. The lush second movement Largo is warmly Romantic, while the third and fourth movements are marked by a mood of buoyant optimism, the strings melding perfectly with the stirring brass, particularly in the gregarious finale.
Drift and Providence by Adams is a musical voyage inspired by the Pacific Ocean. The 32-year-old composer explained that in creating the piece, he recorded sounds of the ocean, transformed them digitally, then transcribed them for instruments. With a sparing use of electronic media, the result is highly atmospheric music.
Despite an initial mixed reception at its 1936 premiere, Barber's Symphony No.1 ultimately gained greater favour and was the first American symphonic piece to be presented at the Salzburg Festival. More strident than Thompson's symphony, the piece is well constructed, with the orchestra deftly handing the four contrasting sections.
This is a fine recording – how appropriate that an orchestra of gifted young American musicians would perform music by American composers who had not yet reached the age of 35 – and do it well. Recommended.