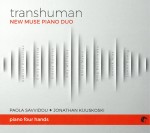 The piano four-hands duo of Paola Savvidou and Jonathan Kuuskoski have led a recording project Transhuman – New Muse Piano Duo (Blue Griffin Recording BGR407) that celebrates the work of contemporary composers who treat the piano in its fullest capacity as a percussion and stringed instrument in addition to being just a keyboard. Repertoire for the project was selected from more than 100 submissions and includes a few works commissioned especially for the recording.
The works are wonderfully varied and present an entertaining array of subjects. Transhuman Etudes by Gabriel Prokofiev looks to the computer age and expresses its mechanistic logic through layered voices and complex polyrhythms. Rambunction by Stacey Barelos reflects the American entrepreneurial spirit using recognizable melodic shapes and rhythms. The inside of the piano, its harp of strings, becomes an important textural resource for Amy Williams' Switch. Haley Myers calls for the performers to bow the strings with rosin-coated fishing line in her atmospheric work Festina Lente. Composer Oleg Bezborodko is perhaps the most adventurous in his use of the piano strings as a cembalom or even a balalaika. His Mignonettes et poèmettes de notre temps recalls the flavours of Eastern European life from a century ago. Henrik Ajax adds knocking on the piano case to the list of effects he uses in Valse déconstruite.
Transhuman is a creative and highly entertaining recording that will stimulate your imagination about what a piano can really do.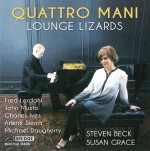 Duo pianists Steven Beck and Susan Grace have been performing together since 2013 and have developed a sterling reputation for performance of contemporary works. Their latest collaboration, Quattro Mani – Lounge Lizards (Bridge 9486) opens with Fred Lerdahl's Quiet Music. Originally scored for orchestra, the composer's two-piano version is an immediately engaging piece played almost entirely pianissimo and using texture as the main building block to advance the work. A constant stream of sixteenth notes pulses throughout the music while the pianists build density toward a climax from which they then gently retreat.
Two works really stand out on this disc: Charles Ives' Three Quarter-tone Pieces and Lounge Lizards by Michael Daugherty. The Ives work is a study in the possibilities of quarter-tone tuning as first proposed by a German builder in 1925 who created a quarter-tone piano with two keyboards. For this performance, one of the instruments is tuned to the quarter-tone difference while the other is left at concert pitch.
Lounge Lizards is composer Michael Daugherty's recollection of his student years when he supported his studies by playing in bars and night clubs in Europe and the U.S. It too was originally scored for orchestra and percussion but has been subsequently arranged by the composer for two pianos and two percussion.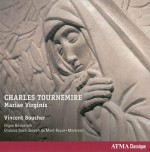 Walking into Montreal's St. Joseph's oratory for the first time is a memorable experience. The sheer size of the space under the massive dome and the starkly modern concrete columns are enough to shrink any ego. Perched in the rear gallery like some colossal beast sits the 1960 instrument by Rudolf von Beckerath. Organist Vincent Boucher has the regular task of sitting like an ant at the console in these gargantuan surroundings and filling the oratory with glorious music. His recent disc Charles Tournemire – Mariae Virginis (ATMA Classique ACD2 2473) is a splendid example of musicianship and sound engineering at their best. Capturing the right amount of direct sound from the instrument and balancing it with the building's natural reverberation are always the key to successful organ recordings. This one gets it right.
The language of late-19th-century repertoire can be dense and Charles Tournemire wrote carefully to achieve those heavy textures while cognizant of the challenges organs would have in large spaces like St. Joseph's in Montreal. Clarity of colour and harmony are vital to the writing of that period. Tournemire achieved this by writing sparsely wherever this was needed.
The works on this disc are sets of service music from a year-long collection of such compositions. They include Introits, Offertories, music for the Communion and also Postludes. The repertoire on the recording is specially focused on feasts of the Virgin from the liturgical calendar.