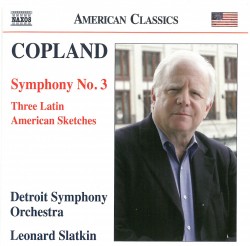 Copland – Symphony No.3; Three Latin American Sketches
Detroit Symphony Orchestra; Leonard Slatkin
Naxos 8.559844
Aaron Copland's life encompassed nearly the entire 20th century. During it he was exposed to a crossfire of many European modern influences, but miraculously he could still achieve his own voice, a distinctive style that's unmistakably American. Interestingly he began like Stravinsky, by writing for the ballet, a good way to make his music accessible to the public and become popular, so by the time he wrote a purely orchestral piece like Symphony No.3 right after the war in 1946, a joyful, optimistic work, it was instantly well received.
The entire symphony is full of inspiration: the hymn-like quiet beginning, the rip-roaring Scherzo punctuated by whistles on the piccolo which is like a group of wild horses storming out of the paddock, and the peaceful third movement where we can feel the vast prairies and the overarching sky. This insinuates itself into the tremendous Fanfare for the Common Man that introduces the fourth movement, with those shattering chords by the brass interrupted by thundering cannons. I am suddenly aware how this music has already become embedded into the soul and as conductor Jaap van Zweden aptly put it, "into the DNA of every American."
Now this new recording with the gorgeous, spacious sound of the Detroit Symphony Orchestra, a band very much underestimated and under one of the best American conductors, Leonard Slatkin, I like it even better than the previous benchmark issue with Bernstein. As an added bonus the Three Latin American Sketches with Mexican influences shows Copland's lighter side and versatility.