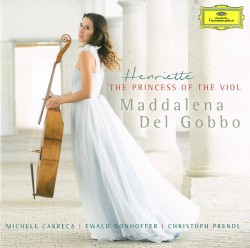 Henriette, The Princess of the Viol
Maddalena Del Gobbo; Michele Carreca; Ewald Donhoffer; Christoph Prendl
Deutsche Grammophon 481 4523
All too often reviews published in The WholeNote evaluate works by artists who die tragically young. Princess Anne Henriette de Bourbon was one such. Princess? If she had lived beyond 24, she might have become a queen: she was Louis XV of France's second daughter.
In this CD, Maddalena Del Gobbo evokes the legendary genius of Henriette's viola da gamba playing. Del Gobbo – who is quite taken with her subject – includes music by Marin Marais, as might be expected, but also arrangements of country dance music which disprove the idea that the viola da gamba was some highly formal, sombre instrument, along with other music of the time for viola da gamba.
Jean-Baptiste Forqueray became Henriette's tutor. How fitting that two pieces by him feature on the CD. One is a slightly subdued composition, played compassionately by Del Gobbo. In contrast, the other is more lively and demanding, particularly with the divisions that conclude this piece with such a flourish.
The dance pieces by Marin Marais from Suite in A Minor are indeed rustic and vigorous, even the Allemande, but special mention must be made of Del Gobbo's performances of Muzettes throughout the CD. She brings out the original meaning of Muzette, namely bagpipes, and it is her expertise that brings home the drone effect of the bagpipe.
Add to this Del Gobbo's vigorous interpretations of movements by a contemporary of Henriette, Louis de Caix d'Hervelois, and you understand the versatility of both princess and modern performer.