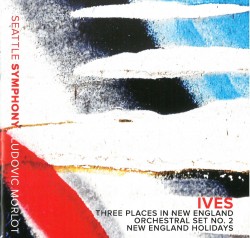 Ives – Three Places in New England; Orchestral Set No.2; New England Holidays
Seattle Symphony; Ludovic Morlot
Seattle Symphony SSM1015 (seattlesymphony.org)
This Naxos recording is the third in a series paying homage to the music of Charles Ives, recorded live by the Seattle Symphony conducted by Ludovic Morlot. The disc opens with the St. Gaudens in Boston Common from Three Places in New England. Here, the ensemble invokes a moving and wistful mood as befits music honouring fallen Black soldiers in the Civil War. The raucous Putnam's Camp is a true Fourth of July celebration while the mysterious Housatonic at Stockbridge is a personal and sensitive musical depiction of the mystical river flowing through New England.
More patriotism follows in the Orchestral Set No.2 and New England Holidays, where the orchestra's exemplary winds and brass are heard to great advantage, particularly in the middle movement of the set, The Rockstrewn Hills Join in the People's Outdoor Meeting. New England Holidays is a study in contrasts, from the icy New England landscape of Washington's Birthday in February, to the reverential Thanksgiving where the orchestra is joined by the Seattle Symphony Chorale.
In all, this CD is a wonderful representation of Ives' music, the well-selected program further enhanced by the SSO's polished performance. As to whether or not a French-born conductor has an affinity towards American music, the answer is most decidedly "Oui!" Morlot may hail from Lyon, but this performance has "America" written all over it – highly recommended.