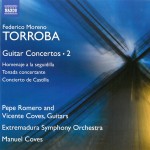 Pepe Romero and his student Vicente Coves are the soloists on Torroba Guitar Concertos Vol.2 with Spain's Extremadura Symphony Orchestra conducted by Manuel Coves, the brother of Vicente (Naxos 8.573503).
Although not a guitarist himself Torroba wrote close to 100 works for the classical guitar, thanks initially to a close working relationship with Andrés Segovia that started in the early 1920s. Despite some early attempts at a concerto there were no significant results until the 1960s, when Torroba concentrated less on his zarzuelas, the Spanish light-opera form at which he was so successful, and more on his writing for guitar. He ended up writing ten guitar concertos, all of which – like his zarzuelas – are richly lyrical and deeply melodic as well as being grounded in the Spanish folk idiom so prevalent in Spanish guitar music.
The three concertos here are Homenaje a la seguidilla from 1962 (but revised in 1975 and 1981), Tonada concertante from 1975-80 and Concierto de Castilla from 1960, with Vicente Coves the soloist in the latter. Superb playing and idiomatic orchestral support mark all three performances, my only complaint being the ludicrously short CD break – four seconds! – between the concertos.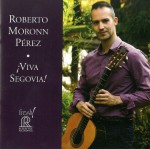 Not only did Andrés Segovia almost single-handedly establish the guitar as a concert instrument, he was also responsible for a significant increase in its repertoire. A great number of works commissioned by him or dedicated to him – many never actually performed – were discovered among his private papers in May 2001; the works were later published as The Segovia Archive Series by Edizione Musicale Bèrben. ¡Viva Segovia! (Reference Recordings FR-723) is the third CD from Spanish guitarist Roberto Moronn Pérez in his Andrés Segovia Archive series, following volumes of works by Spanish and French composers.
There are two "new" English works here: Cyril Scott's Sonatina and Lennox Berkeley's Quatre Pièces pour la guitare, both described by Pérez as gems. Three Swiss composers – Aloÿs Fornerod, Fernande Peyrot and Hans Haug – are represented, Fornerod and Peyrot by Prélude and Thème et variations respectively, while Haug's Étude opens the CD and his Passacaglia closes it. The Sonata in mi by the Italian composer Ettore Desderi completes the program.
Pérez displays an outstanding technique in this fascinating collection of works that were lost for so long, all of which deserve to become a part of the regular repertoire.