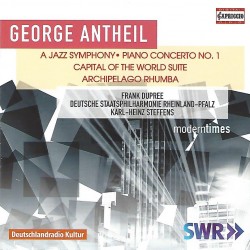 George Antheil – A Jazz Symphony; Piano Concerto No.1
Frank Dupree; Adrian Brendle; Uram Kim; Deutsche Staatsphilharmonie Rheinland-Pfalz; Karl-Heinz Steffens
Capriccio C5309 CD
In 1945, the American composer George Antheil (1900-1959) published his memoirs titled Bad Boy of Music. Antheil had attended the Sternberg Conservatory in Philadelphia and later studied with Ernest Bloch. He composed six symphonies and two piano concertos, in addition to operas, ballets, chamber music and a song cycle plus some 30 film scores including In a Lonely Place, Bogart's 1950 film noir. All this in addition to writing a regular newspaper column for the lovelorn and authoring a layman's guide on forensic endocrinology. He collaborated with actress Hedy Lamarr to invent a guidance system for torpedoes that was adopted by the Navy in WWII. His compositions always attracted attention, most particularly the shocking Ballet Mécanique (1925) a work for orchestra, mechanical pianos and an airplane engine.
Here is the original 1925 version written for Paul Whiteman of A Jazz Symphony for three pianos and orchestra, a year after Gershwin's original Rhapsody in Blue and before Ferde Grofé's orchestration of that piece. It is a crazy, 12-and-a-half-minute potpourri of many ideas and tunes that enter and leave usually without further development. Antheil briefly quotes from Petrouchka and Varèse comes to mind. Of course, this is not jazz but it utilizes many jazz instruments and figures. A hoot.
The Piano Concerto No.1 (1922) is equally entertaining and is clearly from the same hand. Bright, original and entertaining, including brief quotes from Le Sacre.
To the naive boy from a village in Spain, Madrid was Capital of the World where, eventually, he meets an admired bull fighter and is ultimately fatally knifed. The suite is in three scenes, The Tailor's Shop, Meditation and Knife Dance and Farruca. Antheil's Rhumba is orchestrated in the by-now-familiar mode, providing a suitably festive closing-out for this very unusual, interesting and entertaining program.