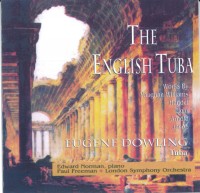 The English Tuba
Eugene Dowling; London Symphony Orchestra; Paul Freeman; Edward Norman
Tromba Bassa Records TBCDD595 (www.cdbaby.com/cd/EugeneDowling)
While one of my personal all time favourite recordings is a collection of duets for tuba and guitar, the tuba isn't usually thought of as a solo instrument. Therefore when a complete recording of tuba solos appears, it warrants more than passing mention. This is doubly so when all of the works on the record are by English composers. In that regard we give Mr. Handel the benefit of doubt and call him English.
More than any other composer of note, Ralph Vaughan Williams liberated the tuba from the back of the orchestra to centre stage when his Concerto for Tuba and Orchestra was premiered in 1954. Since its introduction, this work has become the benchmark for aspiring tubists. In this performance with the London Symphony Orchestra Canadian Eugene Dowling, a long time member of the Victoria Symphony and faculty member of the University of Victoria, proves beyond any doubt that the tuba deserves to be recognized as a solo instrument capable of many moods and styles.
On the balance of the recording, Dowling is accompanied by pianist Edward Norman. These works include Elgar's Romance for bassoon, Malcom Arnold's Fantasy for Tuba and Six Studies in English Folk Song arranged by Paul Droste. Gordon Jacob, a student of Vaughan Williams and teacher of Malcom Arnold, is represented by his eight movement Tuba Suite. The most familiar work for aficionados of band music, will be Handel's ubiquitous Harmonious Blacksmith, long a part of the repertoire of euphonium soloists. Dowling's skill is such that in places it is hard to realize that we are hearing a tuba and not its more agile cousin, the euphonium.